Teachers Service Commission has fixed the dates for holding temporary teachers' examination for permanent status. .
Examination Date and Time:
For Lower Secondary and Secondary Level Teachers: July 13 2018 (Ashadh 29, 2075) / 13:30 onwards
For Pre-Primary Level Teachers: July 14, 2018 (Ashadh 30,2075) / 13:30 onwards
The examination had been postponed four times earlier.
For details see the notice below: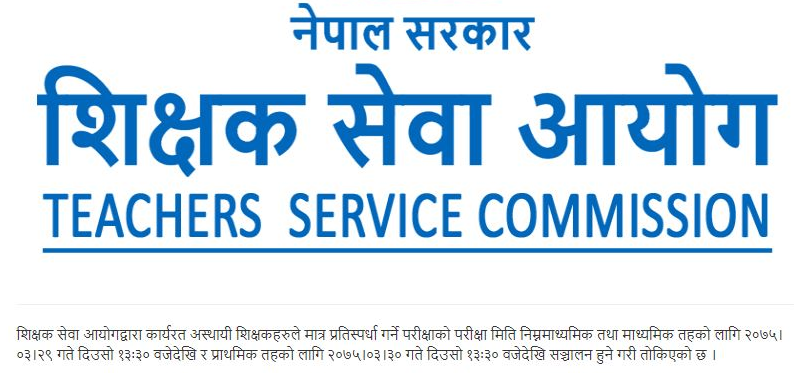 Although a total of 23,286 temporary teachers across the country have applied for the exam, only 22,076 will be given permanent status.

Temporary teachers who joined service between January 4, 1993 and September 9, 2015 will be taking the examination.
The examination for permanent status of temporary teachers was postponed for the fourth time on March 27 following a direct order from Prime Minister KP Sharma Oli. Teachers Service Commission Chief Tana Gautam said they were confident about holding the examination peacefully.
Aspiring teachers who had acquired teaching licence from the government had opposed the government's decision to hold internal examination for permanent posts of teachers.
The ninth amendment to the Education Act has paved the way for temporary teachers to take internal examination for permanent status. There are around 700,000 teaching licence holders in the country.
Teachers Service Commission had also published a notice regarding the written examination for fulfilling the vacancy in the post of Teachers though Open Competition.
The application is open for Teachers in Primary Level, Lower Secondary Level and Secondary Level.