Kathmandu, January 7
The Supreme Court today reinstated Dr Shashi Sharma as dean of Institute of Medicine.
A division bench of Chief Justice Gopal Parajuli and Justice Deepak Kumar Karki issued the order on a petition filed by Dr Sharma. The SC order said he could rejoin as IoM dean from today itself.
However, if Dr Sharma rejoins the office, he will remain the dean of IoM only for a few days as his four-year term is expiring on January 11. Tribhuvan University Executive Council had appointed Dr Sharma as IoM dean on January 9, 2014.
Earlier, Dr Govinda KC, senior orthopaedic surgeon at Tribhuvan University Teaching Hospital, had staged fast-unto-death protest against the appointment of Dr Sharma as IoM dean.
In a bid to pressurise the government and concerned authorities not to reappoint Dr Sharma's to the post, faculty doctors, medical students at TUTH and Nepal Medical Association had launched nationwide protests. NMA had directed all hospitals across the country to halt all medical services, except emergency.
TUEC had then annulled Dr Sharma's appointment after the then chairman of Interim Election Council Khil Raj Regmi directed the TU to withhold Dr Sharma's appointment. His appointment was annulled on January 22, 2014.
After being sacked, Dr Sharma had filed a petition at the SC, stating that TUEC cancelled his appointment without citing any reason and legal basis. TUEC appointed Dr Rakesh Prasad Srivastav as IoM dean on February 12, 2014.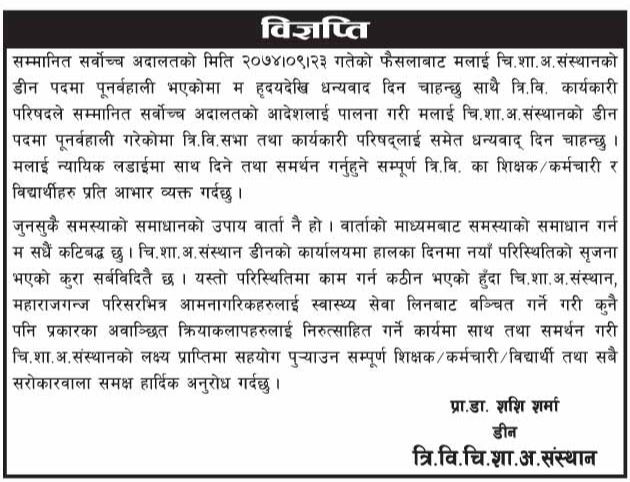 "The decision of TUEC to appoint Dr Srivastav as IoM dean cancelling the appointment of Dr Sharma is against the law," says the SC's order. However SC hasn't spoken anything against the appointment of Prof Dr Jagdish Prasad Agrawal, the current dean of IoM. "There is no evidence to show that Agrawal's appointment is illegal," said the SC.
Dr Sharma was appointed the dean a month after Dr Prakash Sayami resigned amid a bitter dispute over granting affiliation to new medical colleges. TU Vice-chancellor's Office had appointed Dr Sayami the dean on August 17, 2012. Dr KC had compelled TU to appoint IoM officials on the basis of seniority and competence by staging hunger strikes.
The dean of IoM is appointed through a competitive process. A three-member recommendation committee recommends three names for the position of IoM dean. TUEC appoints one among the three candidates recommended by the committee. Taking to THT, Dr Govinda KC condemned the decision to reinstate Dr Shashi Sharmaas IoM dean.
Source: The Himalayan Times