DHANGADHI: Sudurpaschim Province has failed to include special programmes—in the recently announced budget—targeted at reforms in the education and health sectors, according to experts.
Shiva Hari Mudbhari, an education expert, said that there are no new approaches or plans to help uplift the education and health sectors in the province.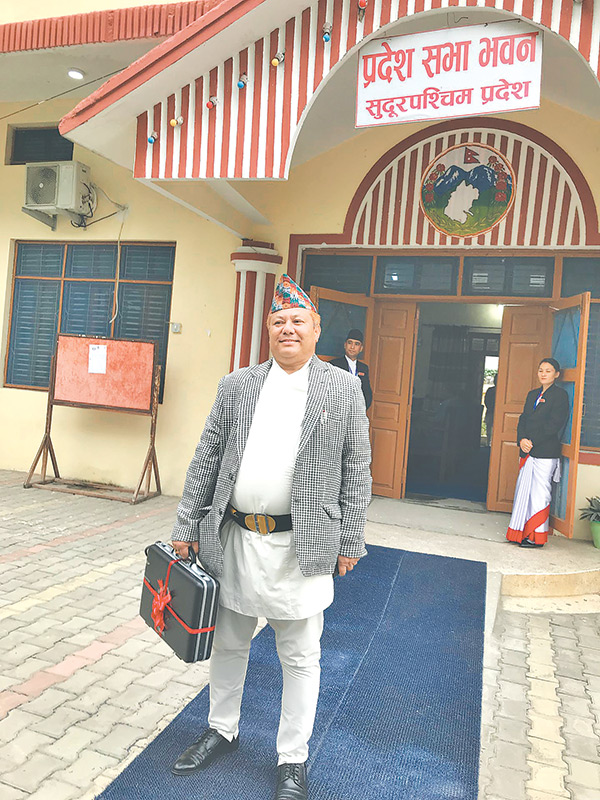 Minister for Financial Affairs and Planning of Sudurpaschim Province Jhapat Bahadur Bohara before the budget presentation. Post file Photo
"The budget includes the same plans it had previous years. It follows the same pattern of giving out scholarship programmes which stands to benefit only a select few and excludes the larger proportion of students.
The budget put all its focus on infrastructure development," said Mudbhari, adding that the provincial government has not heeded opinions of experts.
According to experts, the current budget will not bring substantial reforms in the education and health sectors in the fiscal year 2019-20. Although a popular slogan "Sanai chhu ma, Badna deu, Bal bibaha hoina padhna deu" that reads "I am young, let me grow up, let me study instead of marrying me off" in the budget announcement, experts said that such popular slogans have remained just that—popular—an allegiance expressed in words but not backed by plans and policies.
In the fiscal year 2019-20, the provincial government has allocated Rs520.5 million budget for the construction of infrastructure in 64 schools of 32 election constituencies. Rs128 million has been allocated for higher education and Rs18 million for the construction of hostels for helpless children.
A budget totalling Rs67.5 million has been allocated for helpless children (Rs7.5 million each for the nine districts of the province). Likewise, Rs30 million has been allocated to fund scholarships for meritorious students from Dalit, Janajati, Raute and backward communities and children of civil servants to pursue higher education. Similarly, a budget of Rs20 million has been allocated for the establishment of Province University and Polytechnic Institute.
Meanwhile, Rs24 million has been allocated for the health centres in the city areas, and Rs50 million for reforms of Malakheti, Jogbudha, Gokuleshwor, Shreepur and Belauri, among other health facilities, of local units.
Krishna Bahadur Bohara, a health worker, said that the budget of the new fiscal year will not make any progress in the reform of the health sector. "The budget would have benefitted the health sector if it had covered public health issues and declared the establishment of fully facilitated hospitals in remote areas," said Bohara.
The government has allocated Rs41 million for Mahakali Zonal Hospital, while setting aside Rs 52.7 million for Seti, Mahakalo and Tikapur Hospitals. A budget of Rs120 million has been allocated for the District Hospitals in the province.