February 25, 2019, LOKENDRA KHANAL: Ten-year-old Kapil Khatri of Banfikot Rural Municipality-7, Dharwang in Rukum is a fifth grader at Nepal Rastriya Secondary School (NRSS). Despite his tender age, he has been managing his books and stationeries on his own. After returning from school, most of his friends start doing assignments. However, Khatri is obliged to head towards the forest for his work.
Since the divorce of his parents, he was living with his father. However, his father moved to India with his second wife leaving Kapil with his relatives. As his relatives cannot afford his educational expenses, he has been crushing stones since a long time to make some money for himself.
"I have been living with my uncle," said Kapil, adding, "I pay my fees and buy stationeries with my own money."
The story of Binita Khatri of the same village is no different. She is a fourth grader at NRSS. She too has been managing her expenses on her own. She earns her living by crushing stones and by working as a domestic help at others' home. She lost her father to a tractor accident some five years ago. Later, her mother eloped with someone else compelling her to live with her uncle's family.
"As I have been living at my relative's home, it's hard for me to ask money for my needs. So, I earn my living by my own," said Khatri. She says she earns Rs 80 after crushing a sack of gravels.
After crushing the stones, they should carry the sack of gravel to the construction site.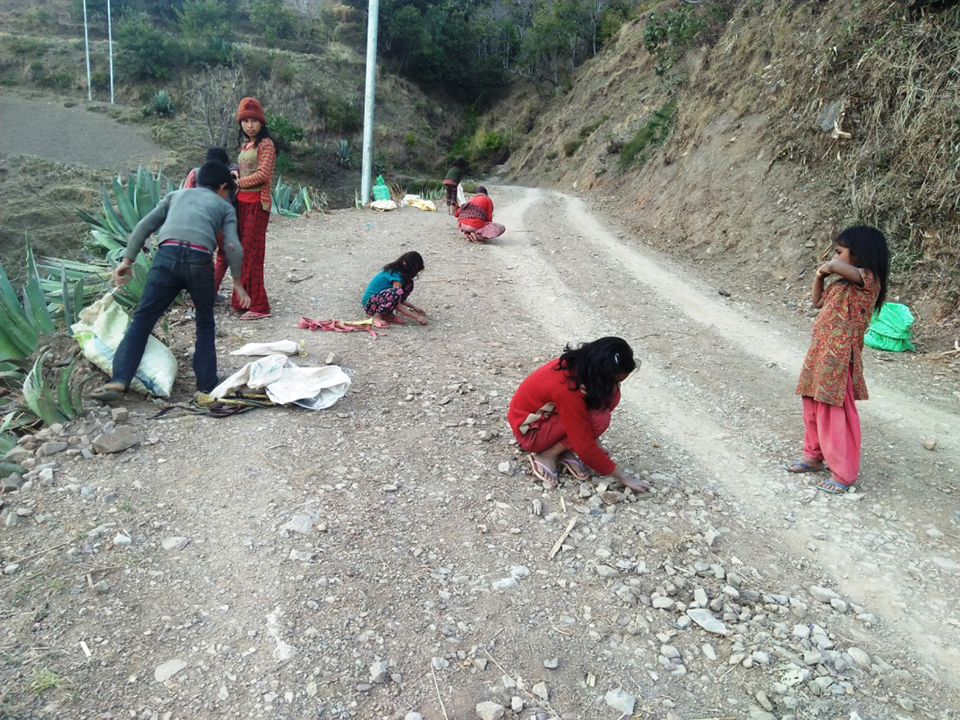 "As I can't carry the whole sack at once, I have to carry it twice, taking a break in between," said Kapil. Even though the government has assured free education, these children are compelled to pay fees for the terminal examinations. This has forced many poor, orphan and homeless children to start working at a tender age.

Nar Bahadur Nepali, a local education activist, stated that the schools have not stopped charging examination fees with students no matter how many times they warned them not to do so.
"Many students are forced to work due to the unnecessary charges imposed by the schools," said Nepali, adding, "The local government must be concerned about solving this problem."
Meanwhile, the local representatives claimed that school principals have assured not to impose such charges.
"We have decided not to charge any kind of fees with the students," said Lal Singh Khadka, coordinator of Banfikot Rural Municipality, adding, "If any school is found going against this decision, we will take stern action against them."