A family spokesman says physicist Stephen Hawking has died at the age of 76. Professor Hawking's children, Lucy, Robert and Tim said in a statement that he had died at his home in Cambridge in the early hours of Wednesday.
The British physicist was known for his work with black holes and relativity and wrote several popular science books including A Brief History of Time. Prof Hawking was the first to set out a theory of cosmology as a union of relativity and quantum mechanics. He also discovered that black holes leak energy and fade to nothing - a phenomenon that would later become known as Hawking radiation.
Considered by many to be the world's greatest living scientist, Hawking was also a cosmologist, astronomer, mathematician and author of numerous books including the landmark "A Brief History of Time," which has sold more than 10 million copies.
With fellow physicist Roger Penrose, Hawking merged Einstein's theory of relativity with quantum theory to suggest that space and time would begin with the Big Bang and end in black holes. Hawking also discovered that black holes are not completely black but emit radiation and will likely eventually evaporate and disappear. Hawking suffered from ALS (amyotrophic lateral sclerosis), a neurodegenerative disease commonly known as Lou Gehrig's Disease, which is usually fatal within a few years. He was diagnosed in 1963 when he was 21, and doctors initially only gave him a few years to live.
Hawking used a speech synthesizer that allowed him to speak in a computerized voice with an American accent.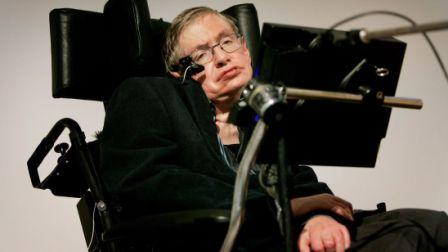 "I try to lead as normal a life as possible, and not think about my condition, or regret the things it prevents me from doing, which are not that many," he wrote on his website.
"I have been lucky that my condition has progressed more slowly than is often the case. But it shows that one need not lose hope."
Despite being a British citizen he was awarded the Presidential Medal of Freedom, the US's highest civilian honour, in 2009 by President Barack Obama.
In September 2016 Hawking joined 375 "concerned" scientists in penning an open letter criticizing then-presidential candidate Donald Trump, citing the threat of climate change and blasting his push for the US to leave the Paris Accord.Fellow scientists hailed Hawking for his work and influence in the field.
In the statement his children, Lucy, Robert and Tim, said: "He was a great scientist and an extraordinary man whose work and legacy will live on for many years." They praised his "courage and persistence" and said his "brilliance and humour" inspired people across the world. "He once said, 'It would not be much of a universe if it wasn't home to the people you love.' We will miss him forever."