The result of SLC examination which was conducted on 2071 BS Chaitra is likely to publish tomorrow i.e. Ashad 4, 2072/19th June 2015.
According to the state run newspaper Gorkhapatra daily, the meeting of secondary examination board is called for tomorrow to publish the result.

Exam controller Bishnu Kumar Dware said, 'we are trying to publish SLC result on Ashad 4, but if we could not publish it on that day due to some problems, we will surely publish it on Ashad 5'. Dware said the tabulation work had been already completed while the cases of missing students, attendance verification, and other works were in final stages.
Dware informed that the results of the general stream will be published first while the technical stream's results will be published one week later. The result of Technical SLC will be published a week later because of the grading system.
This year 5,74,685 students participated in SLC examinations out of which 4,26,214 are regular and 1,45,183 are of partial category. In the technical SLC category 3250 students are waiting for the result.

The OCE had called for the meeting of OCE Examination Committee (SLC Board) yesterday. The meeting will be held on Friday as well. The nine-member SLC Board is chaired by secretary from the Ministry of Education while Controller at the OCE remains as its member secretary. The results will be announced following the Board's green signal to the office after examining all the process and accuracy of the results.
The deadline to publish the results of SLC exam is three months from the date of the exam. SLC examinations this year were held from March 19 to 27. Examinees from general stream as well as technical and vocational stream had appeared in the exam.
How can I view SLC result 2072?

1. You can view your SLC Result online at slc.edusanjal.com
2. You can view your SLC Result by sending SMS to 7676. For this you have to type, SLC <Your roll number> and send to 7676. Eg. SLC 570704D and send to 7676
This year onward, OCE has decided to introduce grading system with the results of SLC examinees from the technical stream. All the examinees from this stream will get grades as per marks scored in the exams rather than pass/fail tags.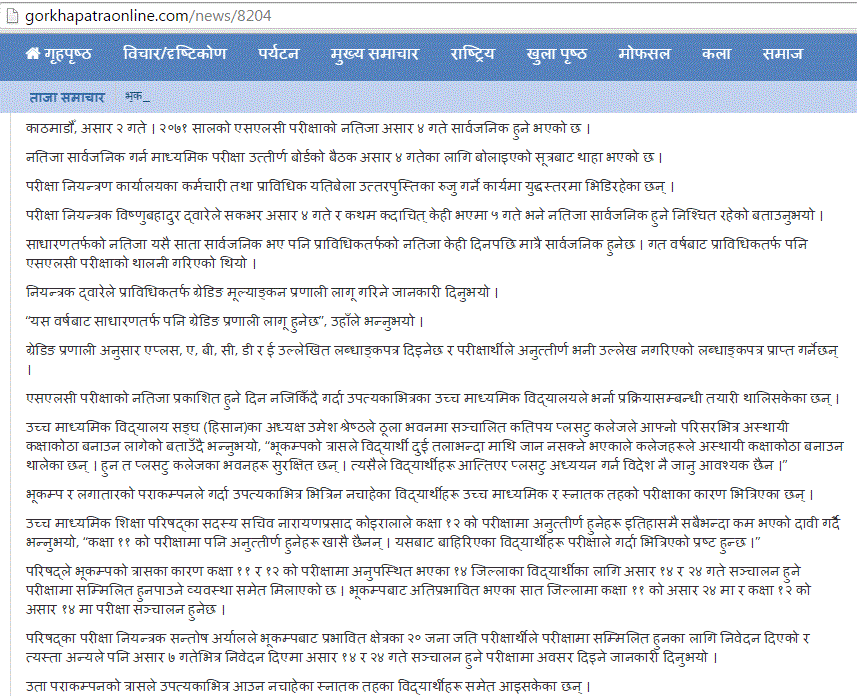 Source: Gorkhapatraonline