June 9, 2019, DB BUDHA, JUMLA: Establishment of Sija Multiple Campus in Sija village of Jumla district a decade ago had brought smiles to the faces of residents. It was seen as a great achievement. "We were so glad that our kids and the new generation would not have to go far away from home for further studies. It was a huge relief for all us," said Rabi Acharya, a local. "But what we expected did not happen."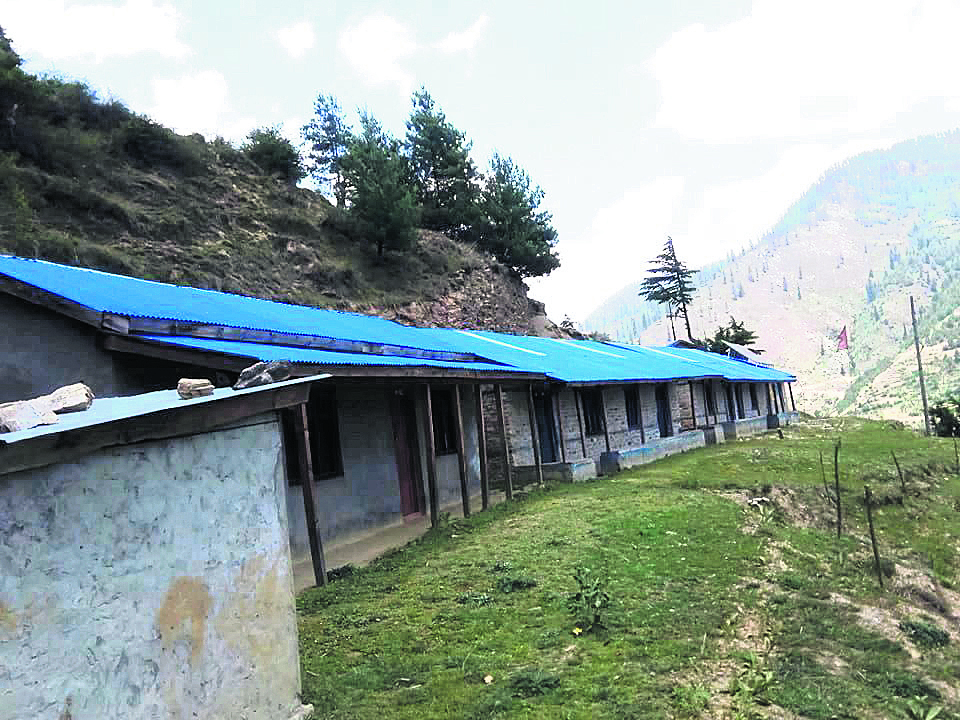 The college situated in a hill in this remote zone looks like an abandoned building. Neither teachers nor students are ever seen around except during the admission season.

"It is only during the time of admission a little movement is seen around the college. Or else, you won't see them around," Acharya stated.
According to residents, they are not aware of who is running the campus. Lecturers, administrators and other staff are rarely seen at the college.
"We live just here by the side of the college, but we do not know who is the head, who are the lecturers, who are administrative staff at the college. We feel unfortunate that this is like a dead place," said Acharya.
Bishnu Acharya, a member of the college management committee, has attended meetings focused on the issue several times. Stakeholders promise big things during meetings, he says. "However, what is discussed and decided in those meetings has never materialized. We have failed to change the face of the college," he said.
He stated that the college lacks resources and facilities to run successfully. "The college does not have drinking water, toilets, open ground, among others," said Bishnu.
Decade ago, a few locals had taken initiatives to open the college. After it received affiliation from the Tribhuvan University, it was decided that it would be operated with internal resources. And that is the root of the problem, according to Bishnu.
"Back then, it was expected that locals would help run it. Internal resources would help it operate. Some political leaders were there to woo the idea. But time did not prove it right," Bishu explained.
According to Ran Bahadur Rokaya, chairperson of the management committee, the development budget from local authorities has been keeping the college alive. "Or else it would have collapsed by now."
Rokaya said college expenditures are high even though the college is not running well. It regularly pays its lecturers and other staff.
He even ruled out the locals' claim that the college remains closed except during admission time. "It does not open regularly, but it is also not true that classes are never run. Students do come sometimes as per their convenience. They contact lecturers," said Rokaya.
Earlier, the District Development Committee and Village Development Committees used to provide financial support to the college. Now the Rural Municipality looks after it. However, what is provided by the local body is not sufficient, according to Rokaya.
The collage's essence cannot be undermined at all even though classes are not run regularly. This year, 200 students are enrolled at the college. "And this is a huge number," Rokaya noted.
There are enough students for Bachelors in Education and Bachelors in Business studies. The students, even if they are offered classes every day as in any good college, won't be able to attend, Rokaya claimed.
"The situation of students does not allow them to attend regular classes. Many of them work for a living for which they mostly remain out of the station," though he admitted that it could not be an excuse to run college poorly. "Good performance of college depends on resources, which we don't have enough, unfortunately," he added.
Students pay just Rs 200 as the admission fee. For examination, they pay Rs 630. "That is all they pay to the college. Education is free," said Rokaya.
There are six lecturers each of who are paid Rs 25,000 per month. Along with that, the college also has six administrative officials to pay. "So, this a big amount and the rural municipality has been supporting for it," he further said.
When it was established, the first budget the college got was the University Grant of Rs 450,000. A building was also built then. After that, no donor has taken an interest in the college.
"Students get enrolled. They prepare in their own way. They take examinations. They pass, and their future gets brighter. The college is still serving a lot," Rokaya maintained.