Purbanchal University, Faculty of Science and Technology notifies the campuses that are running under it to send the filled up forms and related bank vouchers for the second entrance examination of Bachelor's level by 2074-08-19 to the dean's office.
Entrance examination are being conducted for the second time to fill up the remaining vacant seats at the bachelor's level.
Update: 2074-08-19
The deadline for the submission of applicaions for the second entrance examination has been postponed to 25th Mangshir, 12.00 midday. Likewise, the entrance examination will be held on 29th Mangshir, 2074.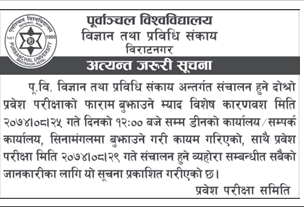 Older notice: