ACHHAM, Durgadevi Secondary School in Mallekh Rural Municipality-7, Achham, wears a deserted look. The school has been declared 'shut' for a week, as all 13 teachers have gone on a recce to other model schools. This move has left many guardians perplexed since the academic year had only just begun.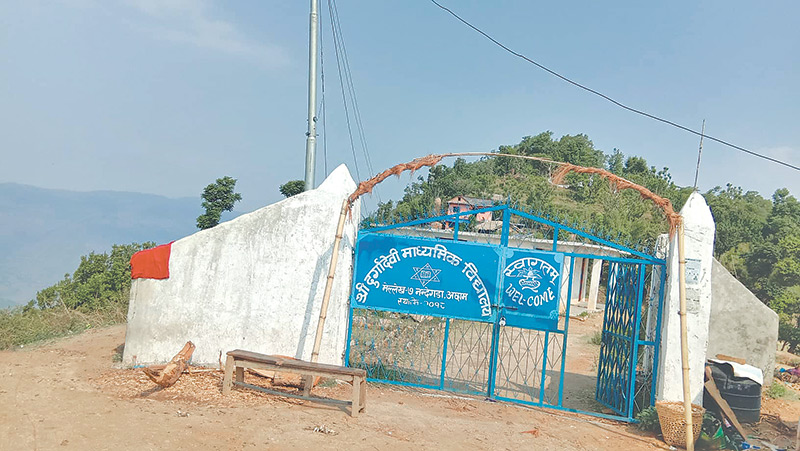 The entrance to Durgadevi Secondary School in Mallekh Rural Municipality-7, Achham district. Post Photo: MENUKA DHUNGANA

The school has 550 students, all of whom are now on a vacation, much to the chagrin of their parents. The 13 teachers had not informed the school management about the tour or their decision to close the school for a week.
"Nobody told us about the tour or the decision to close the school," said Nara Bahadur Saud, ward chairman and the chairman of the school management committee. Krishna BK, headmaster of the school, said that the teachers, including himself, will be on tour for five days.
"We have decided to close the school for a week, but we will conduct classes during the summer vacation," said BK. "We will visit some model schools in Pokhara and Butwal and will adopt the same system to turn our school into a model school."
The tour group consists of 18 teachers including the headmasters of other schools.
"We are funding our own tour and we will resume teaching on June 9 after we get back," BK said. The temporary shut down of Durgadevi Secondary School in the middle of the academic year on the pretext of turning it into a 'model' school has not gone unnoticed.
Dambar Rawal, acting chief at the Education Development and Coordination Unit, said that the teacher's tour is against the Education Rules. "Teachers are not allowed to close the school and go on a tour in the middle of an academic session," Rawal said.
According to the Education Rules, a school shall remain closed only on public holidays as declared by the government.
Also, the Management Committee of the school can allow an additional holiday of five days in one academic session under the local holiday heading. If a school remains closed on days that are not mentioned in the rule, departmental action shall be taken against the headmaster.