HETAUDA : Students of Kalika Secondary School in Raksirang Rural Municipality-4, Makwanpur, have been studying in makeshift classes for the past four years.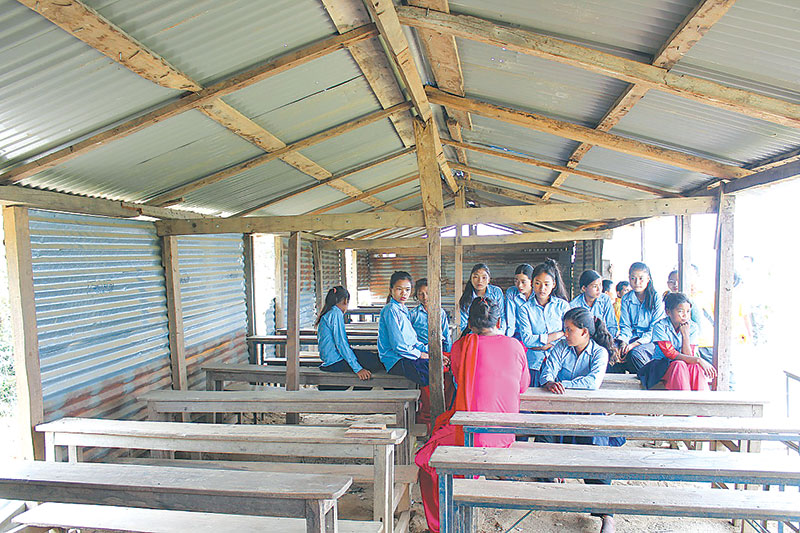 A makeshift classroom of Kalika Secondary School in Raksirang Rural Municipality-4, Makwanpur.Post Photo: Pratap Bista
According to the students, they have to face scorching heat, strong winds and severe cold because they do not have a proper classroom.
Raj Kumar Malla, chairman of the rural municipality, said that the students and the teachers are facing difficulties due to a lack of concrete school building. The previous school building was destroyed by the devastating earthquake of April 25, 2015.
Headmaster Surya Narayan Chaudhary said that they are compelled to teach students of grade 1 and 2 in the same classroom, as there are no sufficient rooms.
"It is difficult to teach students in makeshift classes, but we have no other option. New classrooms are being constructed at the moment," Chaudhary said.
There are 175 students enroled in the school, a majority of whom come from impoverished families of Tamang, Chepang and Dalit communities.
The school has not been able to provide even basic amenities like drinking water and toilets to its students.
"The education unit of the National Reconstruction Authority has completed the foundation work of a 4-room school building. Hopefully things will move faster now," said Chairman Malla.
The four-room school building, however, won't be able to accommodate all the students of the school.
The situation is similar in many other schools in the remote areas of Makwanpur. Around 2,105 classrooms of various schools in the district were destroyed by the 2015 earthquake. Only 54 schools were left untouched by the quake in the district.
The concerned authorities plan to complete the construction of all quake-ravaged school buildings by next year. So far, various government and non-governmental organisations have constructed 155 school buildings (around 550 classrooms) in the district.