Pokhara University today published new fall semester examination schedule for the examination of various Bachelor level programs .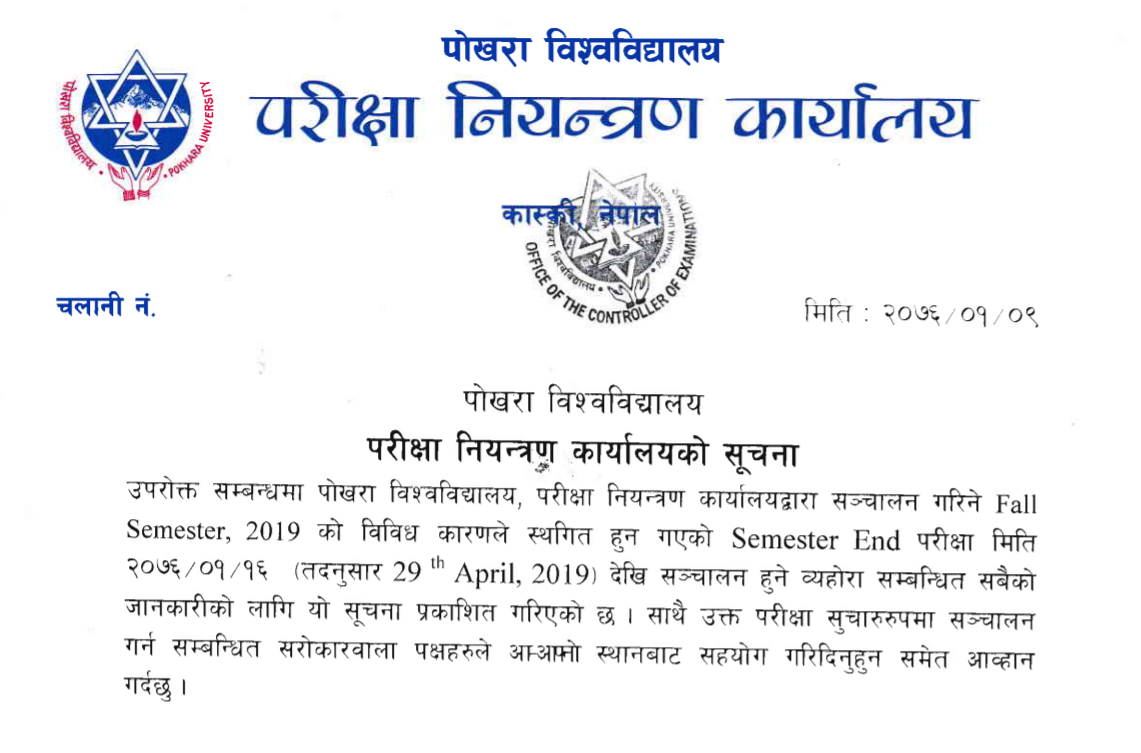 Examination routine of these Bachelor level programs for fall semesters was published today. The examinations will start from 29th April, 2019.
Bachelor of Civil Engineering
Bachelor of Civil Engineering for Diploma Holders
Bachelor of Civil and Rural Engineering
Bachelor of Architecture
Bachelor of Computer Engineering
Bachelor of Electronic and Communication Engineering
Bachelor of Engineering in Information Technology
Bachelor of Software Engineering
Bachelor of Electrical and Electronic Engineering
BBA
BBA-BI
BCIS
BCA
BHCM
BHM
BBA-TT
BPH
B.Pharm.
B.Sc.MLT
B.Sc. Biochemistry
B.Sc. Environmental Management
B.Sc.MM
B.Sc. MB
B. Physiotherapy
B. Optometry
Bachelor of Development Studies (BDEVS)
Bachelor of English and Communication Studies (BECS)
Download Exam Schedule from the link given below
Note:
1) All the Examination starts from 7.00 AM. The duration of Examinations shall be of 3 hours.
2) Internal marks submission date: 28th April, 2019
3) All colleges must submit examination forms only at office of the controller of examinations, Pokhara Lekhnath and it is mandatory.
4) Examinations for Engineering Drawing will be conducted on their concerned colleges.