Kathmandu, Jan 2 (RSS): President Bidya Devi Bhandari has presented the Nepal Academy awards to different litterateurs and the winners of the National Poetry Festival, amidst a function here today.
At a programme organised at the Office of the President, Shital Niwas, President Bhandari handed the awards to Chandra Ranhanchha, first winner of this year's Poetry Festival, Subas Rai 'Captain', second winner, and Dipendra Upadhyay, Urmila Koirala and Amrita 'Smriti', third winners. The first, second and third winners were honoured with Rs 30,000, Rs 25,000 and Rs 20,000 and medal respectively. The poets were announced the winners in the competition organised in 6oth anniversary of Nepal Academy held on June 23.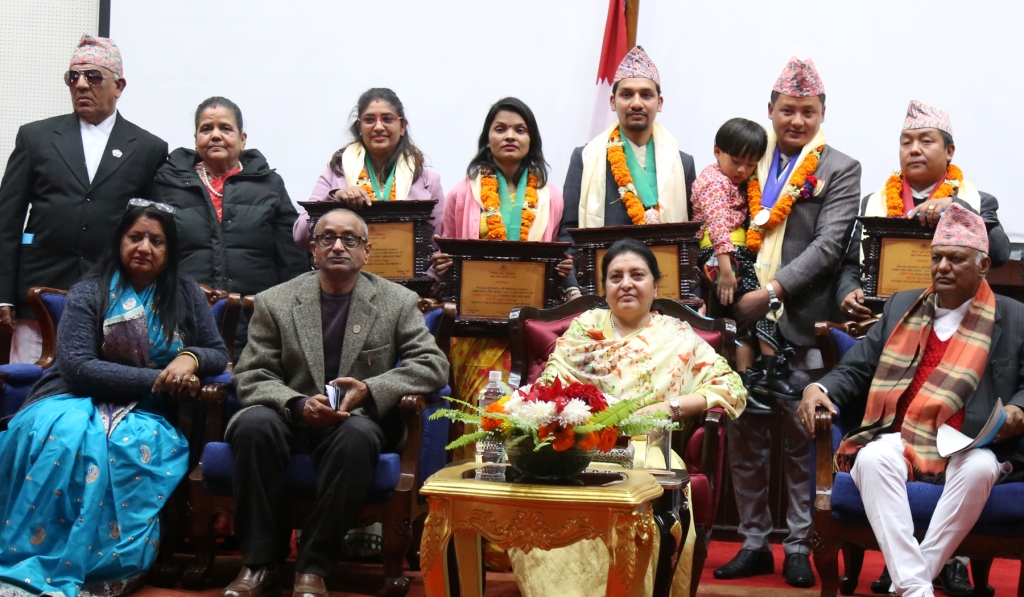 Similarly, Prithvi Pragya Puraskar (award) was presented to senior critic and essayist Prof Dr Taranath Sharma. The award is presented in every four years.
Likewise, 'Nepal Pragya Saskriti Puraskar' and 'Nepal Pragya Bhasha Puraskar', presented in every two years, were presented to Prof Dr Bina Poudel and Dr Ramawatar Yadav. The award carries Rs 100,000 each.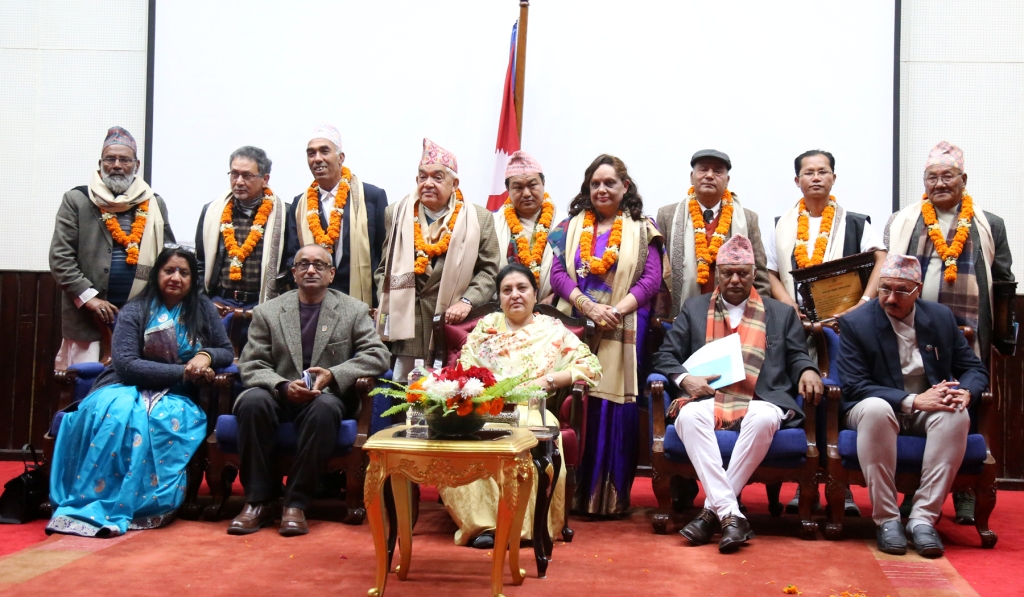 Bimal Niva bagged 'Nepal Pragya Nepali Sahitya Puraskar' of 2073 BS while this year's 'Nepal Pragya Nepali Sahitya Puraskar' was presented to Dhurba Sapkota. The award is presented every year.
Likewise, the 'Nepal Pragya Matribhasa Sahitya Award-2073' has been conferred on Abdul Latif Shauk (Urdu language) and the Award-2074 on Som Bahadur Dhimal (Dhimal language). Both the awards fetch a cash prize of Rs 100,000 each. The 'Matribhasa Sahitya Award-2073' was bestowed on Padam Rai, and the Award-2074 on Dhan Bahadur Majhi.
Addressing the event, President Bhandari stressed the need for litterateurs to play a role in transforming and promoting culture, while bringing political changes.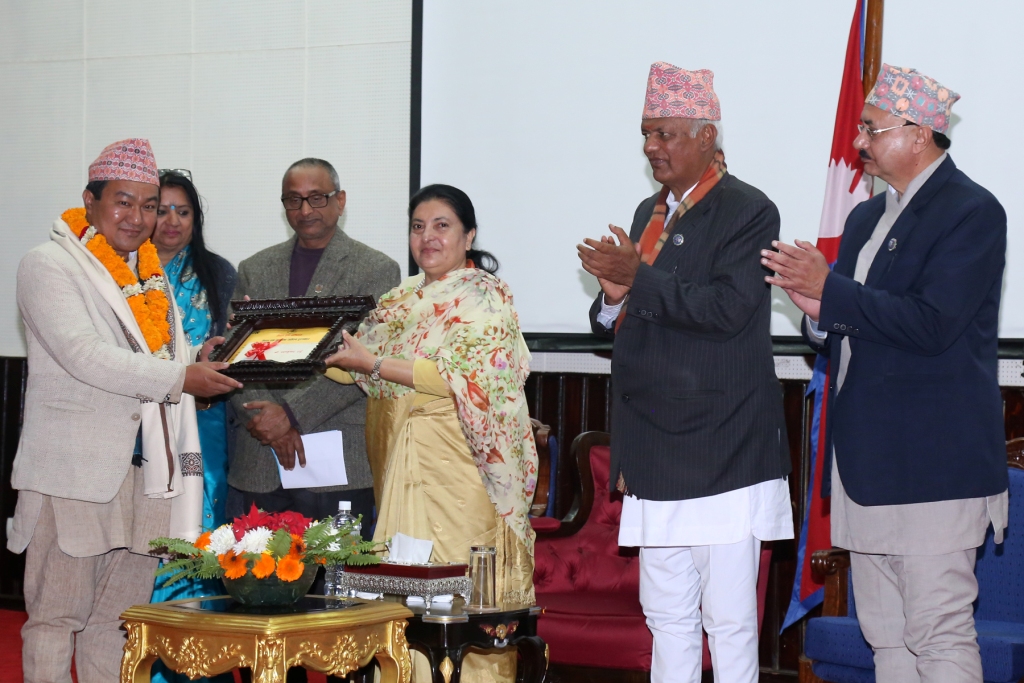 Similarly, Minister for Culture, Tourism and Civil Aviation Jitendra Narayan Dev, also patron of the Academy, viewed that poetry with good message and intent would have a positive effect on the world.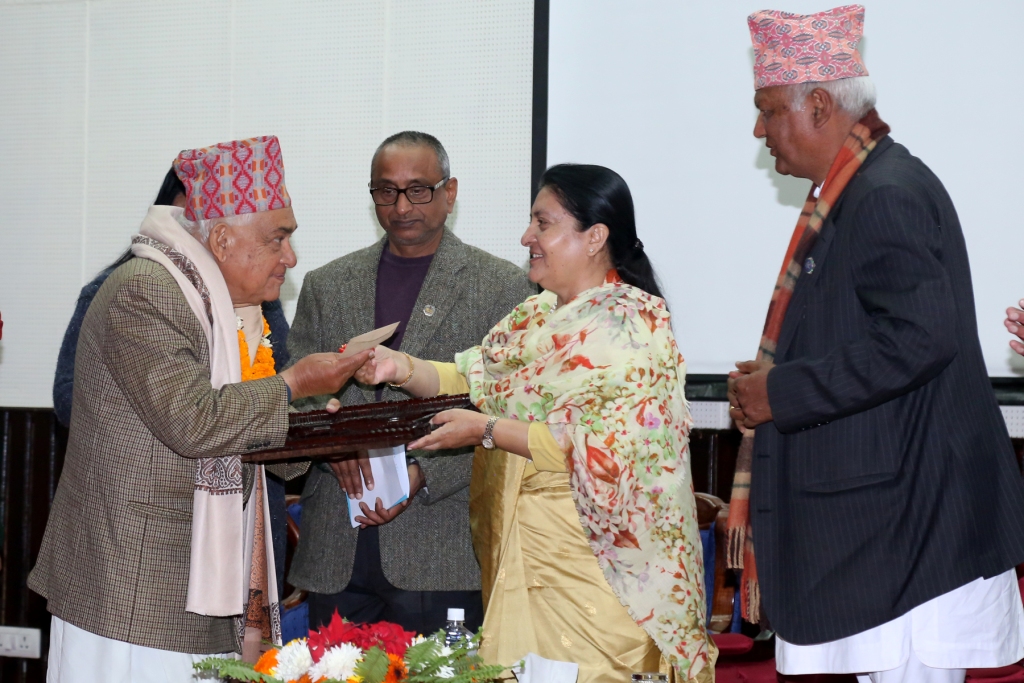 The Academy's chancellor Ganga Prasad Upreti informed that efforts were on to cooperate with various academic sectors in neighbouring countries and the South Asia.