Kantipur HISSAN Edufair 2018 welcomed all the media personnel in the Press Meeting which was organized to provide information regarding the 5th Kantipur HISSAN Edufair 2018. The Edufair which is being organized by the joint collaboration of HISSAN and Kantipur Publication will be held from Jestha 10 to Jestha 13, 2075 (May 24 to May 27, 2018) in Bhrikutimandap with a motto.
With lots of students and parents attracted towards foreign education, this Kantipur HISSAN Edufair will inform the students about the institutions in Nepal which have been providing quality and excellent education so that the students will look for opportunities in the country itself.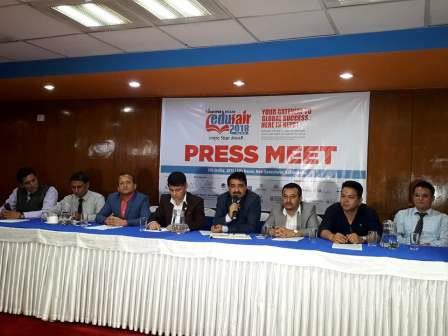 For the past 5 years, Education Fair has been organized to provide verified information to the students on the excellent education in Nepal itself. The Edufair will be inaugurated by Honorable Prime Minister K.P Sharma Oli on Jestha 10 (May 24), 11 am.
Find detail information about colleges participating in the Kantipur HISSAN Edu Fair 2018 here