Kathmandu, July 27: President Bidya Devi Bhandari has said Nepal is a multi-cultural, multi-religious, multi-ethnic and a multi-lingual country.
The Head of the State said this while addressing a programme organized to present letters of appreciation to various personalities here today. The programme was organized by the Ministry of Federal Affairs and Local Development and the Bouddha Darshan Prbardhan tatha Gumba Bikas Samiti, Lalitpur.
She said the costumes, customs and language of the people living in the mountainous, hilly and the Tarai (southern plains) region is the national identity of the country which has established its uniqueness in the world.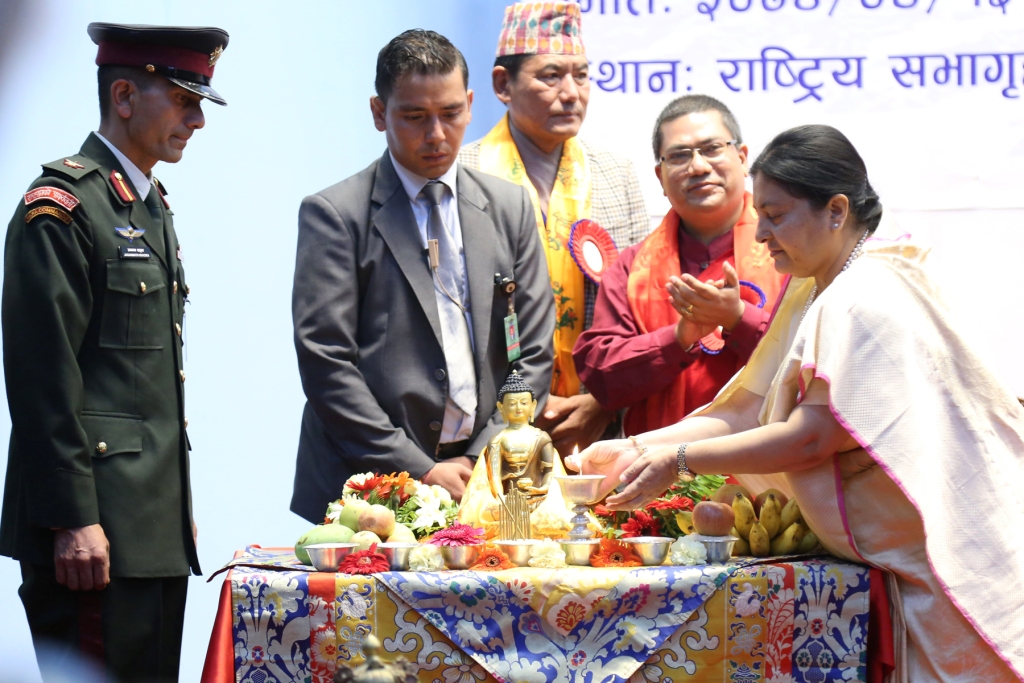 On the occasion, President Bhandari honoured 399 individuals who earned higher education in Buddhist philosophy, presenting them with letters of appreciation.
The honoured individuals were conferred with different titles as Rimpochhe, Tulku, Acharya, Khempo, Loppen and Ghese, the titles that are conferred on an individual earning higher degree in Buddhist education.
Among the honoured persons were from Nepal, Burma, Thailand, Sri Lanka and India.
President Bhandari said that Nepal is a unparalleled place of Budhhist culture and philosophy, calling on the government, the private sector and all the stakeholders to work for the greater development of Lumbini, the birthplace of the Buddha.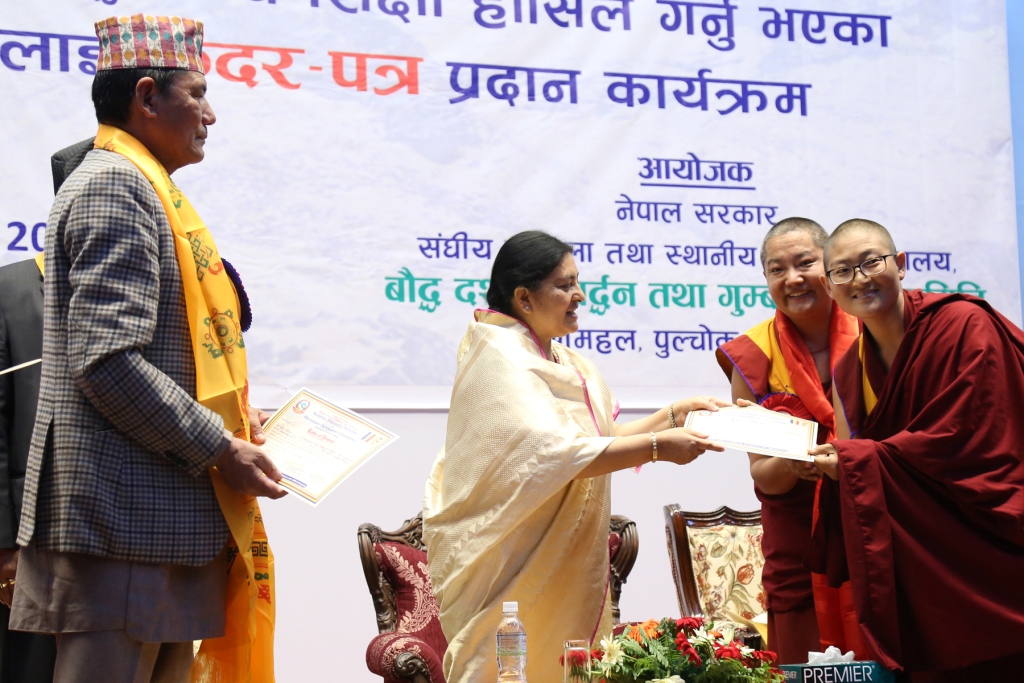 Also speaking on the occasion, Deputy Prime Minister and Minister for Federal Affairs and Local Development Bijay Kumar Gachchhadar said the Buddhist education had proved a means of achieving peace. Adoption of teachings of Budhha would help minimise the violence and killings and ultimately attain world peace, he added.
Nepal had started the Buddhist education classes in 2036 BS. Buddhist education is free in Buddhist temples and monasteries while the Lumbini Buddhist University has already been established in Lumbini, the birthplace of Gautam Buddha, for higher education.
On the occasion University vice chancellor Pro Dr Nareshman Bajracharya said Nepali preferred to go to India, Myanmar, Sri Lanka and Thailand to pursue higher education on the Buddhist philosophy. He said the State should grant the recognition of national education to the Buddhist education. RSS