BAJHANG, The District Police Office (DPO) in Bajhang has launched an awareness drive targeting adolescent school students in a bid to check drug abuse.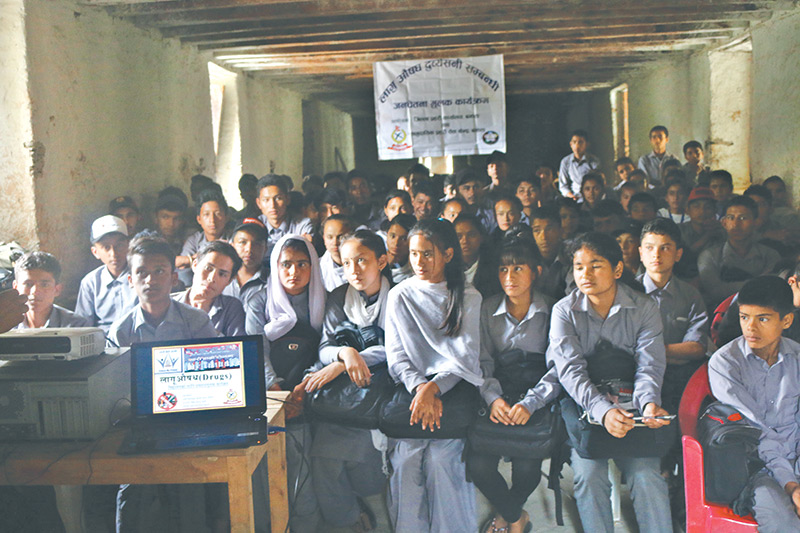 Students of Satyabadi Secondary School in Bajhang take part in an awareness campaign against drug abuse. Post Photo: BASANTA PRATAP SINGH

The week-long campaign was launched on Sunday to mark the International Day Against Drug Abuse and Illicit Trafficking that falls on June 26.
During the campaign, the students are being educated on drug addiction and its adverse impact on human life. The security officers are organising the programme at schools and holding interactions with the youngsters. More than 400 students have attended the campaign till Wednesday, the DPO said.
The stakeholders have expressed happiness at the launching of the awareness drive targeting students.
"Many friends have been addicted to drugs as they do not know about their negative effects. The police's awareness campaign has been an eye opener for many adolescents like me," said Jitendra Giri, a student of Satyabadi Secondary School in the district.
According to police officers, people generally start doing drugs during their teenage years or early 20s. "We have launched the campaign after receiving complaints that schoolchildren were increasingly abusing drugs," said Deputy Superintendent of Police Surya Bahadur KC, adding that the schools in the bazaar area have been prioritised in the first phase.
The campaigners have been displaying audio/visual stuffs about the physical and mental impacts that drugs could have in life. The participants are also provided with information regarding the legal consequences of the abuse and smuggling of drugs during the campaign.
The DPO said it had been carrying out legal action along with the awareness drive. "We are investigating on the drug users and the smugglers. Those found guilty will be brought to book soon," said DSP KC.
Of late, drug addiction has been a major problem in Chainpur, the district headquarters, and its vicinity. The number of drugs users is increasing as narcotics are easily available in the area. Police suspect that there are more than 50 drugs users in Chainpur.