May 20, 2019, Bishnu Prasad Aryal, KATHMANDU, May 20: In 2016, the first KP Oli-led government announced to develop 240 quality public schools across the country, like the Budhanilkantha School in Kathmandu. However, the second Oli-led government in 2019 has reportedly started "crippling" the famous school against its own previous commitment.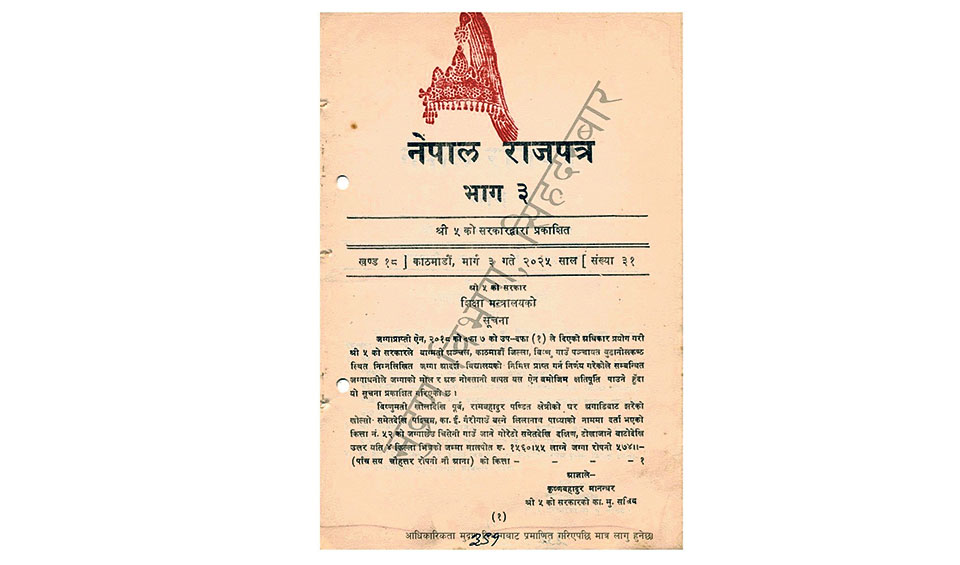 Prime Minister Oli recently remarked at parliament that the land of Budhanilkantha School should be utilized. It is reported that a bus park and a public park have been proposed on the school land by acquiring it. "If the cabinet decides to acquire the school's land, it is possible. Otherwise, using the school's land for other purposes is not possible," said sources.

According to the school authorities, Budhanilkantha School has a total of 574 ropanis of land in Budhanilkantha Municipality of Kathmandu. The land acquirement detail was published in the Nepal Gazette on November 18, 1968.
Many vested-interest groups are eying the land of the school as public land and open spaces in Budhanilkantha are being encroached upon, according to the locals. "Several plots of public land have already been encroached upon in Budhanilkantha. The government talks about retrieving encroached land but it itself is trying to acquire school land for business purposes," they said.
Keshar Khulal, a former principal of the school, said that he received several proposals in the past to acquire the land of the school. "However, I was firm on utilizing the school land only for the academic purpose of the school," he added.
Hom Nath Acharya, the current principal of the school, said that the authorities at Budhanilkantha Municipality have shown interest in acquiring the land of the school.
"The land is owned by the school trust, which will decide about it. We are against using the land for non-school activities and purposes," he said, "Though we have not received any letter or direction about it from the government so far."
The Ministry of Education, Science and Technology (MoEST) planned to upgraded 240 public schools across the country into well-facilitated and quality public schools like the Budhanilkantha School in Kathmandu. In the first phase, 14 such schools were to be chosen, one from each of the 14 districts hit the hardest by the earthquake of 2015.
The government even allocated a budget of Rs 24 million in 2016 to develop the model schools. However, the selection of such schools is yet to be carried out.