The Korean language test—a prerequisite for migrant workers seeking jobs in South Korea under the Employment Permit System (EPS)—got under way on Saturday, with 41,132 candidates taking the exam on the opening day.
According to the EPS Korea section under the Department of Foreign Employment (DoFE), a total of 82,235 had registered for the language test between March 22 and 31 for the 2019 intake.
The EPS section has been conducting the test in two shifts in Kathmandu, Lalitpur, and Pokhara. The language test in Pokhara is being conducted after a gap of one year.
The tests were held in two shifts, with Kathmandu seeing 24,008 candidates--the highest participation among the three cities, followed by 11,124 in Lalitpur and 6,000 in Pokhara. The EPS section has set up 28 exam centres--16 in Kathmandu, eight in Lalitpur and four in Pokhara.
According to the EPS section estimation, 10-15 percent of applicants do not appear in the language test annually.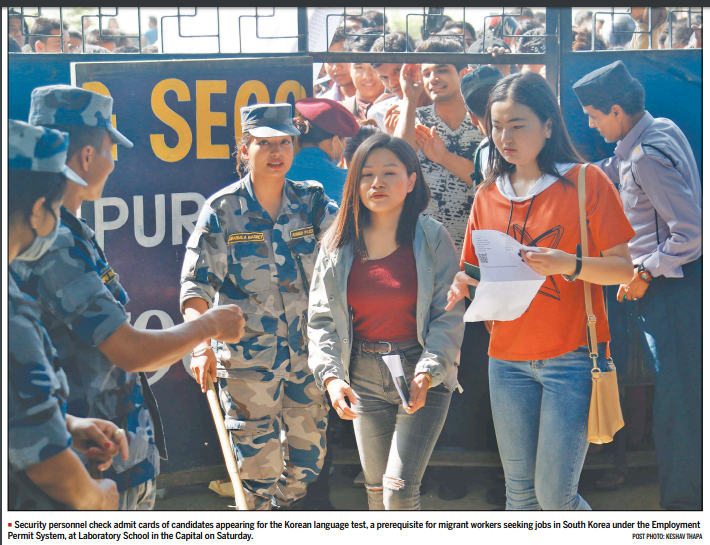 The examinations were largely peaceful, except for expulsions of a few candidates for cheating during the test, according to EPS Section Information Officer Shobhakar Bhandari. The results will be out on June 30.

The Human Resources Development Service of South Korea has fixed the maximum ceiling of 7,100 Nepalis for its job market in 2019. Out of that, 4,800 will be placed in the manufacture sector and the rest in the agriculture and farming sectors.
The Korean government has not confirmed yet if there will be skill test this year.
"The skill test will be fixed only after the publication of results. As there have not been skills tests for the past two years, we can't say at the moment if there will be one this year," Bhandari said.
Recently, the HRD Korea EPS Centre in Nepal said that they would employ a new 'point based' evaluation to select the workers. The new evaluation model will be applicable for Nepali migrant workers from 2019.
"With the introduction of the new evaluation system, candidates must pass both language and skill tests. The selection will based on the total combined score of both the tests," said Bhandari.

~The Kathmandu Post