Texas College held the welcome and orientation program for the newly admitted students.
The 'Welcome and Orientation Program' was held for the students admitted in BBA, BCS, BIT and MBA courses. Various speakers talked about career building and culture of the college.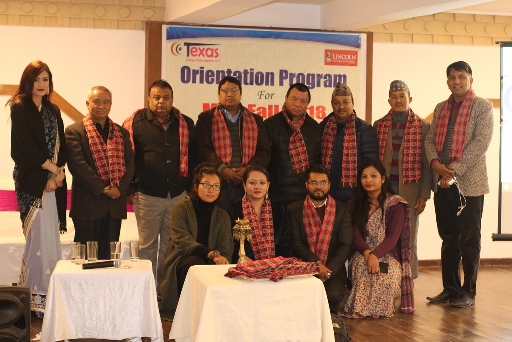 Principal of the College, Mr. Bheshraj Pokhrel told that there is increasing number of Nepalese students who are going abroad for higher studies, which is woeful situation and it is challenging for Educational institutions in Nepal to create environment for students to stop going abroad for higher studies. Texas College is consistent towards providing quality education. Texas College has always been aware of the quality it delivered to students he further added.
Texas College of Management and IT (TCMIT), with the affiliation with Lincoln University, Malaysia, had achieved the good results in the past, therefore, new students will also get a chance to learn in an effective environment informed Dr. Satish Kumar Ojha, Professor of Regional Research Director.
Ojha also mentioned that there will be necessary support and effective monitoring from the university in coming days.
The college had also provided Rs, 30,000 assistance to Magsaysay Award winner and social activist Dr. Mahabir Pun's National Innovation Center on the ceremony.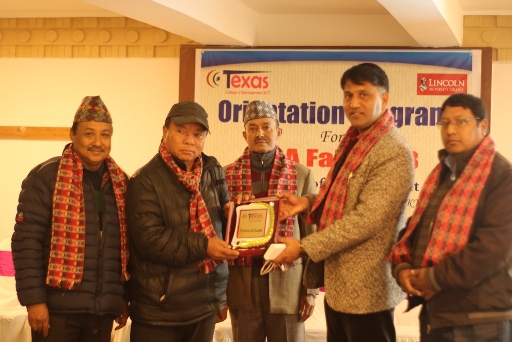 About Texas Int'l College
Running excellently under Texas Int'l Education Network (2009), Texas Int'l College is a dynamic educational institution with outstanding academic programs in Management and Information Technology (IT). The College has been founded with a set of academicians and entrepreneurs to meet the rising demand for qualified and skilled manpower in the field of Management and IT. Since its very inception, Texas remains as an invitation to learning by both theory and practice.
Its principal motto is 'Education for a complete human being' and the college commits to provide 'quality education at affordable fee'. The College caters quality education in Management, Science and Humanities streams.