On the 25th of January, 2019, NIEC celebrates its 19th anniversary. On this occasion, NIEC is launching many new products such as Mission USA Full Ride- Fall 2020, Achieve IELTS for Australia, E-NIEC and PTE Success.
NIEC is one of the oldest educational consultancies in Nepal. Every year, thousands of students trust NIEC for their TOEFL, IELTS, PTE, SAT 1, ACT, GRE and GMAT preparation and student visa processing to USA, Australia, New Zealand, UK, Ireland and Canada.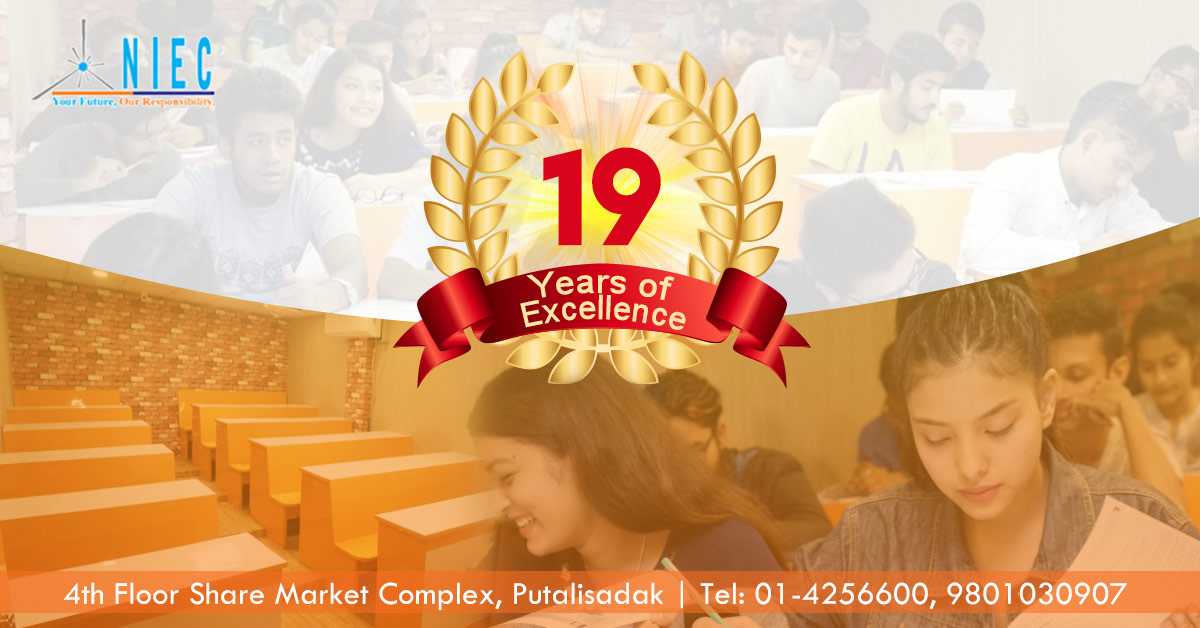 NIEC's Achieve IELTS for Australia.
Achieve IELTS for Australia gives students the chance to reach the English level required for direct admissions into Australian Universities and Colleges. It is an intensive English course with a skills based focus that ensures that you will boost your scores in the IELTS substantially and consists of 200 hours of classroom preparation along with E-Practice Center and E-Library. The skills based approach of Achieve IELTS for Australia gets students the results they need to get direct admission into Australian institutions.
Mission USA Full Ride- Fall 2020
On its 19th anniversary, NIEC is also launching Mission USA Full Ride- Fall 2020. This program is a first in Nepal. No other program by any educational consultancy in Nepal has offered a package that offers intensive preparation of 400 hours for SAT 1 and ACT along with scholarship applications for Early Decision, Early Action and Regular Decision.
This program is intended for students who are in the 12th grade or who have completed the 12th grade and have the intention of applying for Full Rides (Scholarships for full tuition and Living) and Full Tuition Waivers in undergraduate programs in US institutions in Fall 2020- the first major entry date in which they are eligible for big awards.
E-NIEC
E-NIEC, also to be launched by NIEC during the anniversary celebrations, is Nepal's first educational and advising portal for students who wish to continue their studies abroad. E-NIEC is operated from NIEC's website www.niec.edu.np. E-NIEC consists of many unique features that make it a first in Nepal.
The features are as follows:
Online classes for TOEFL, IELTS, PTE, SAT 1, ACT, GRE and GMAT.
Students use an interactive platform to receive instruction
Students also get access to E-Library and E-Practice Center
Students also have instant communication with teachers when needed
Instacomm: An instant Communication Facility.
• Students get in touch with counselors from anywhere
• Students Transfer documents and files on the go
• Students Clarify any doubts instantly
E-Practice Center
• Students practice listening, reading, writing, grammar, reasoning and math online.
E-Library:
• Students download videos, lessons, e-books and practice materials
NIEC Channel
• The most useful YouTube Channel for students who want to study abroad
Online Workshops, Training and Webinars
• Training online from www.niec.edu.np and Facebook page
• Live interaction with leading professionals from the field
• Live interaction with University and College Representatives