16th July, 2017
Nepal Health Professional Council notifies the students that it will not certify the degrees that are not approved by the council. Along with that, the council also mentions that it will not register the students who have obtained the degrees from Distance Learning, Lateral Entry and Open University.
The Council also requests to inform about any registration that have been bestowed to unqualified personnels by mistake.
Update: 28th July, 2017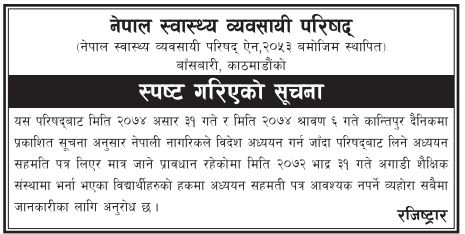 NHPC issues this notice to inform the students who are studying abroad without the approvalletter from the council and gives an opportunity to obtain the letter within one month.