Nepal Bar Council (नेपाल कानुन व्यवसायी परिषद ) has postponed the 25th special written examination for the advocate level. The examination was scheduled to be held from Ashoj 5 to 8, 2075 (September 21 to 24, 2018).
According to the recent notice, the examination will be held from Ashoj 12 to 15, 2075 (September 28 to November 1, 2018) at Patan Multiple Campus from 1 to 4 PM.
Find details in the official notice below: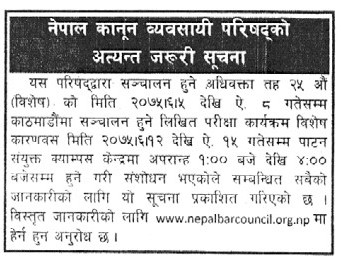 Please visit the website of Nepal Bar Council; http://www.nepalbarcouncil.org...for detailed information.