Senior journalist Mohan Mainali and Jhapa-based journalist Maya Pakuwal have been honoured with KCC Professional Journalism Award 2075 (2018) by Kantipur City College (KCC) today. President of Federation of Nepalese Journalists (FNJ) Govinda Acharya and Commissioner of National Information Commission Yashoda Devi Timsina honoured the two with certificate and cash prize of NRs. 25,000/- each.
Both the awardees expressed their gratitude and take it as an encouragement in their professional lives. Senior journalist Mainali has been working for past 28 years in investigative reporting, especially in environment beat visiting rural areas and bringing in field reports. He too has been involved in documentaries and as the media trainer. Similarly, Maya Pakuwal is the editor of Barun Weekly published from Jhapa. She is recovering from a kidney operation.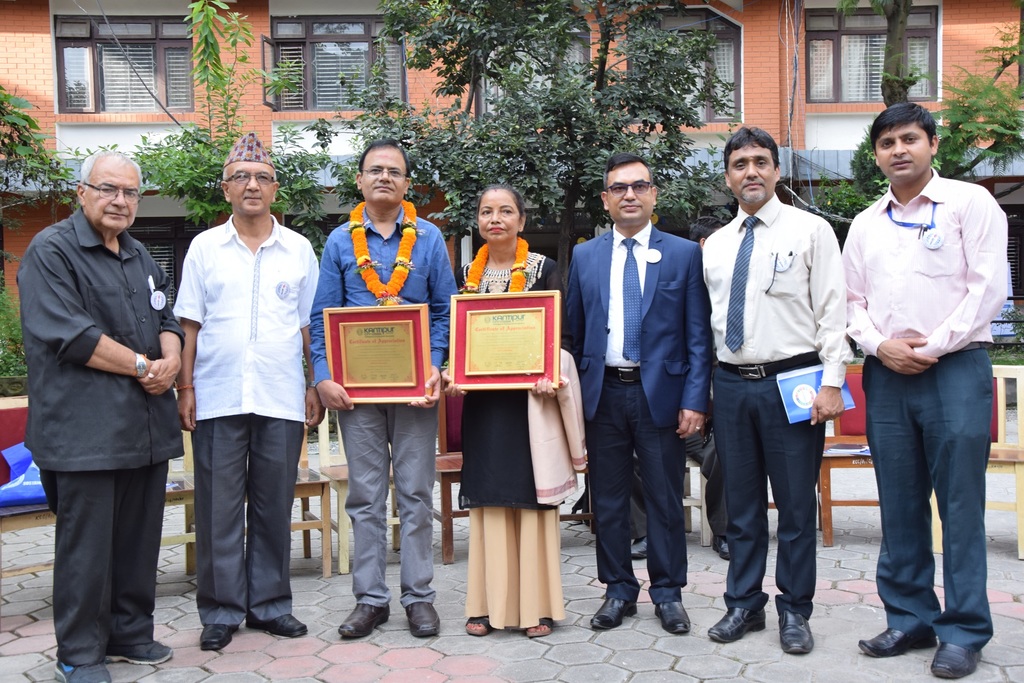 Speaking at the program, special guest Timsina expressed satisfaction with the fair decision by the Award jury led by senior journalist Shreeram Singh Basnet. She urged everyone to use their right to information and media to facilitate the same. FNJ President Acharya expressed his doubt towards the recent laws that could control press freedom, freedom of expression and right to information about public officials. Press Advisor to Prime Minister and also media-expert, Dr Kundan Aryal focused on making the press responsible and accountable and expressed that the current laws too will help the media become so.
KCC established the funds to award the two working journalists contributing to the professional exercise and service towards the nation and people. The college is one of the foremost to start a Master's level course in mass communication and journalism affiliated to Purbanchal University. In this course, over 350 graduates of the college have been well-placed in the media, universities and other sectors both nationally and internationally.
In the same program, the second volume of KCC Media Journal too was launched. It was published by the Department of Mass Communication and Journalism of KCC under the editorship of Janardan Bista, associate editorship of Abhas Dharananda Rajopadhyaya and coordination of Rajiv Timalsina. It contains nine inter-disciplinary research articles, including on self-regulation by Prof Rama Krishna Regmee, emotional authenticity versus ethnic nationalism by Dr Bhanubhakta Acharya, role of media in labeling criminals by Dr Dipesh KC, Right to Information (RTI) Audit by Yek Raj Pathak, role of radio in post-earthquake scenario by Janardan Bista, on media's education role in the coverage of Dharahara vs Kasthamandap after earthquake by Abhas Dharananda Rajopadhyaya, development journalism by Sujeena Shakya and effect of Modi visit on Indo-Nepal relations by Rajesh Kumar Pathak.
Two gold-medalists from the college, viz. Madhav Thapa Chhetri (2015) and Chiranjebi Devkota (2014) were also felicitated during the program.