Lalitpur, Jan 22 (RSS): As Nepal gears up to launch its first nano-satellite-Nepali Sat-1 under project Birds-3 by coming mid-May, we introduce you to two Nepali men who are working hard at day and toiling harder at night in Japan for this project to come to fruition.
Aawash Maskey and Hareram Shrestha, the former originally from Morang district and the latter from Gorkha, are currently keeping busy with the Birds-3 at Kyushu Institute of Technology (Kyutech) University in Japan with the sole purpose to help Nepal put its own satellites in orbit.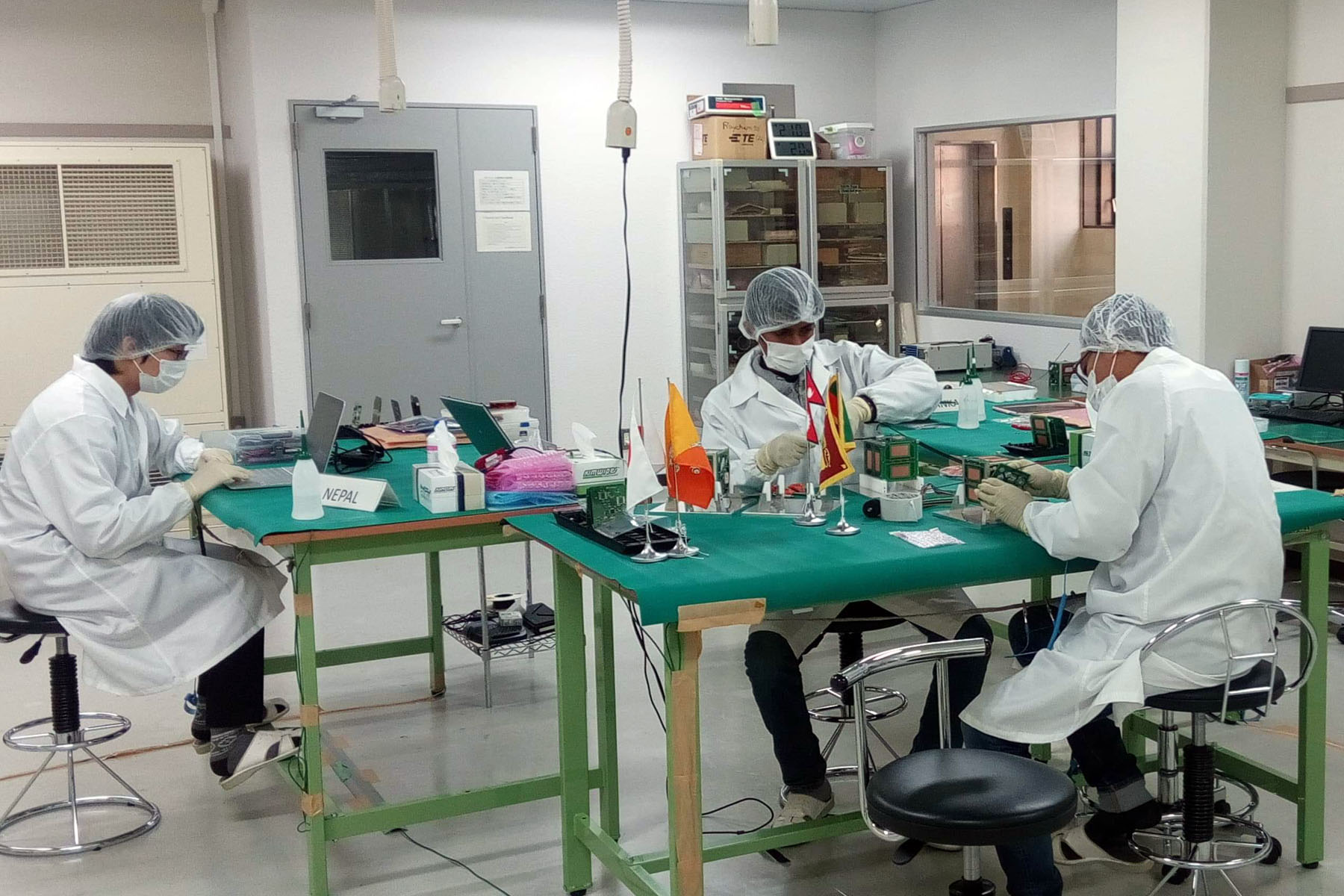 Nepal is set to put its own nanosatellite in orbit with the help of these two Nepalis, one completing Master's Degree in Engineering from Japan and the other pursuing post-doctorate degree there. Maskey, a Ph D candidate in space engineering, is leading the Birds-3 project while Shrestha, a graduate from the Pulchowk Engineering College and currently a student of space engineering, is involved in Birds-4.
The Nepali nanosatellite, Sri Lanka's 'Ravan-1' and Japan's Ubishu combined together measure 1,000 cubic centrimetres in volume and 4.5 kilogrammes in weight. Nanosatellite is an artificial satellite with a weight mass between 1 and 10 kilogrammes.
The first-ever Nepal made nanosatellite is scheduled to launch from the USA, said Chief of the technical department of Nepal Academy of Science and Technology (NAST), Rabindra Prasad Dhakal. The three countries simultaneously assembled the satellites and will launch them simultaneously from the USA, according to Dhakal.
The Kyutech University has supported in construction of Nepal's nanosatellite at subsidized value, informed Dhakal. Shrestha obtained scholarship for his Master degree in Japan and has been working on Birds-4 while Maskey had left for South Korea to study space science after completing his higher level education in Nepal. 27-year-old Maskey was inquisitive from his early age, according to his mother Sarita Maskey, an architect at the Ministry of Urban Development. She further explained, "Aawash used to imitate his father's work while he accompanied his father in traditional watermill while generating energy. He is very stubborn and does not give up and give in easily."
After completing 4-years of Bachelors in Space Engineering at Seoul University, Maskey got to participate in a workshop of space engineering. As he came to Nepal a year and half ago after completing his graduation, he got another opportunity to pursue further studies and work at Kyutech University simultaneously. The Kyutech University had already constructed Birds-1 and Birds-2. After getting through interview at the Kyutech, he met with Prof Maeda which laid groundwork for the construction of Birds-3.
Prof Maeda had suggested Maskey to secure some fund prior to springing into action for Birds-3. Both the professor and research fellow arrived Nepal to conduct space engineering workshop. After a rigorous process of floating the matter on space engineering project to the concerned authorities in Nepal and after convincing them, the government finally agreed to fund the Project at the cost of around Rs 20 million which they received in two installments, Maskey's mother shared.
"Aawash wants to come to Nepal to teach other space engineering enthusiasts upon completion of his studies and work in Japan," informed the proud mother. 32-year-old Shrestha had worked in NAST as a chief technical first class non-gazette officer for 8 years before pursuing his dream with Birds-3 in Japan. After Kyutech University launched Birds-3 project in Nepal, Shrestha got an opportunity to be a part of it. He is currently pursuing his Masters degree in space engineering in full support of the United Nations.
Both the Nepali prodigious students are committed to return to their country to impart the knowledge on space engineering as well as the efforts being made for Nepali Sat-1 to those willing to learn, grow and contribute to space engineering back home.
- Subhanu Acharya