The Medicine honor established in the Baglung district " Dr. Tarun Paudel Medicine Prize" is awarded to th Head of the Psychiatry Department of the Institute of Medicine, TU. Prof. Dr. Saroj Prasad Ojha. The prize worth NRs. 15000 was handed over by the Chief of the Baglung Muncipality, Janak Raj Paudel. The honors for the 2074 is given to the chairman of the "Om Kumari Shanti Kosh" , Myagdi, Rajesh Shakya.
"The prize has been given to the Prof. Dr. Ojha due to the long standing contribution to the medicine." Says the chairman of the trust, Kaji Roshan. The other personalities to be honored were social worker Dev Bahdadur Shrestha, Dr. Sagar Rajbhandari and so on.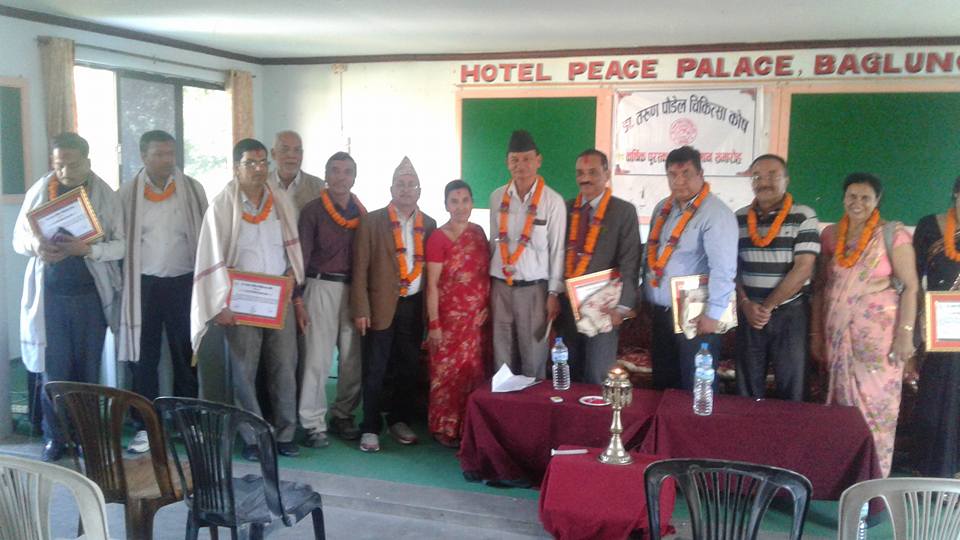 The program also awarded the health workers form the manag, Myagdi, Mustang and Parbat. The trust has been honoring the personalities who have been contributing in the field of health, since last four years. Dr. Tarun Paudel who was born in Baglung and is a Chief Consulatnt at Dahaulagiri Zonal Hospital established the trust for awarding to the personalities working in the health sector and helping the under-privileged people in hospital treatment.
(souce: RSS)