Tribhuvan University office of the controller of examination has published the re-total result of Master of Business Studies (MBS) First year of the examination held on 2073 BS, Mangsir.
The re-total result of MBS First year was published by the decision of Tribhuvan University central examination committee, whose meeting was held on 11 Bhadra 2074. The result of MBS First year year was held published on Ashad 7, 2074.
Students can view the results of re-total by visiting exam controller office, Balkhu.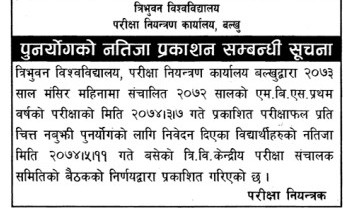 edusanjal has not received the re-total result file, if we got it we will publish it online.