Government of Nepal has fixed the number of public holidays for 2076 BS. Government of Nepal has declared 15 days of National holidays for the upcoming Nepali new year 2076 BS (2019/2020).
A notice published in Nepali Gazette declared public holidays on Nepali New Year's Day, May Day, Buddha Jayanti, Constitution Day, Dashain (5 days), Tihar (3 days), Mahashivaratri, International Women's Day and Holi.
Government has decided to grant holidays to specific groups of people during festivals according to their cultures and religion. Women will have a holiday on Teej, people with disability will get a holiday on International day of disabled person and schools/colleges will have a holiday on Sri Panchami.
Employees associated with emergency and essential services such as hospitals, rope-ways, police, immigration, prisons, fire brigades, Radio Nepal, Nepal Television, press, postal offices and telecommunications, may take leave in lieu as they are required to provide services even during public holidays, the new decision states.

1. Saturdays: 51
| | |
| --- | --- |
| Month | Saturday (s) |
| Baishakh | 7, 14, 21, 28 |
| Jestha | 4, 11, 18, 25, 32 |
| Ashadh | 7, 14, 21, 28 |
| Sharwan | 4, 11, 18, 25, 32 |
| Bhadra | 7, 14, 21, 28 |
| Ashoj | 4, 11, 18, 25 |
| Kartik | 2,9, 16, 23, 30 |
| Mangsir | 7, 14, 21, 28 |
| Poush | 5, 12, 19, 26 |
| Magh | 4, 11, 18, 25 |
| Falgun | 3, 10, 17, 24 |
| Chaitra | 1, 8, 15, 22, 29 |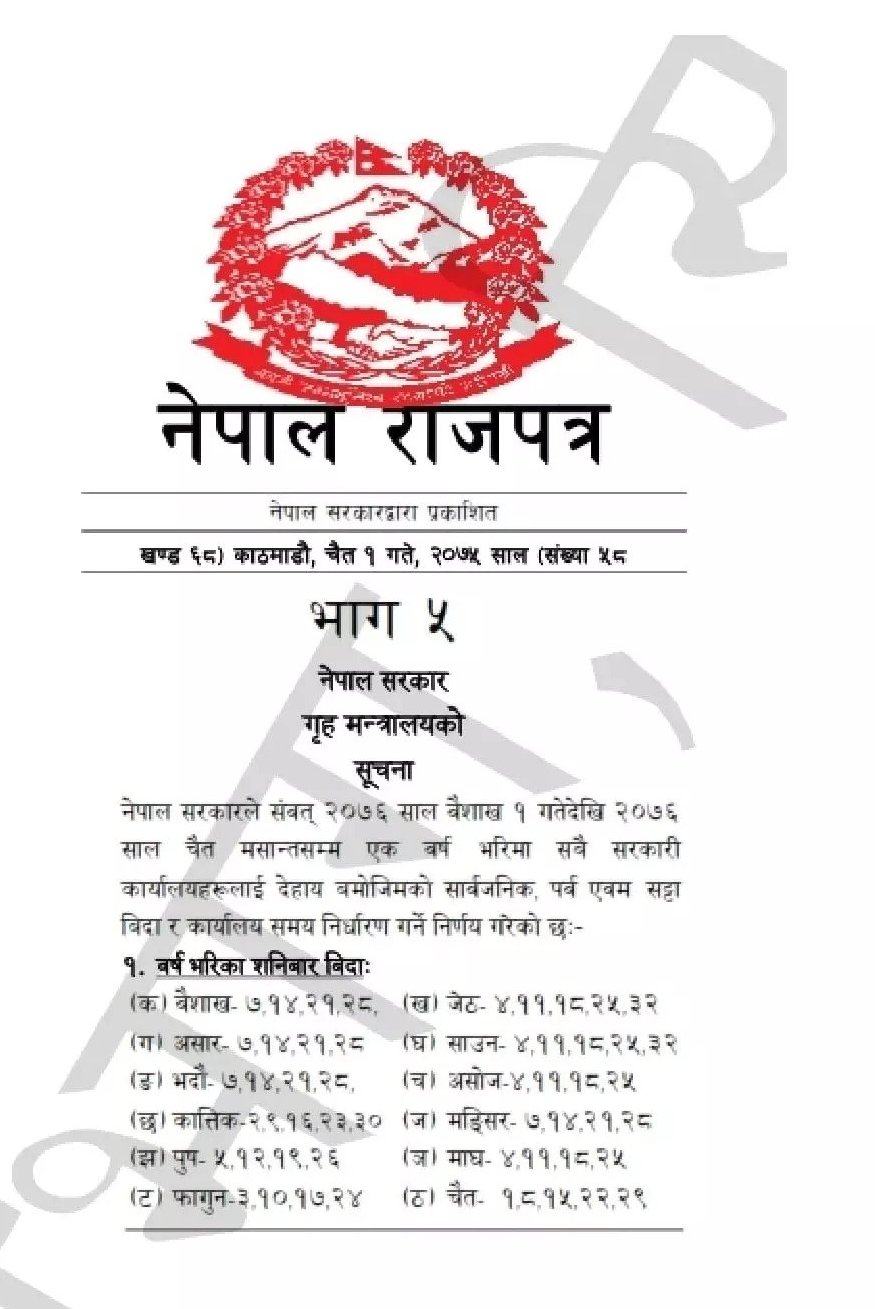 2. Festival Holidays in 2076 BS
New Year: Baishakh 1, Sunday
MahaShivaRatri: Falgun 9, Friday
Fagu Purnima

58 Districts of Pahad & Bhitri Madhesh: Falgun 26, Monday
Remaining following districts on Falgun 27, Tuesday Morang, Sunari, Saptari, Siraha, Udayapur, Dhanusa, Mahhotari, Sarlahi, Rautahat, Bara, Parsa, Parasi, Rupandehi, Kapilvastu, Dang, Banke, Bardiya, Kailai, Kanchanpur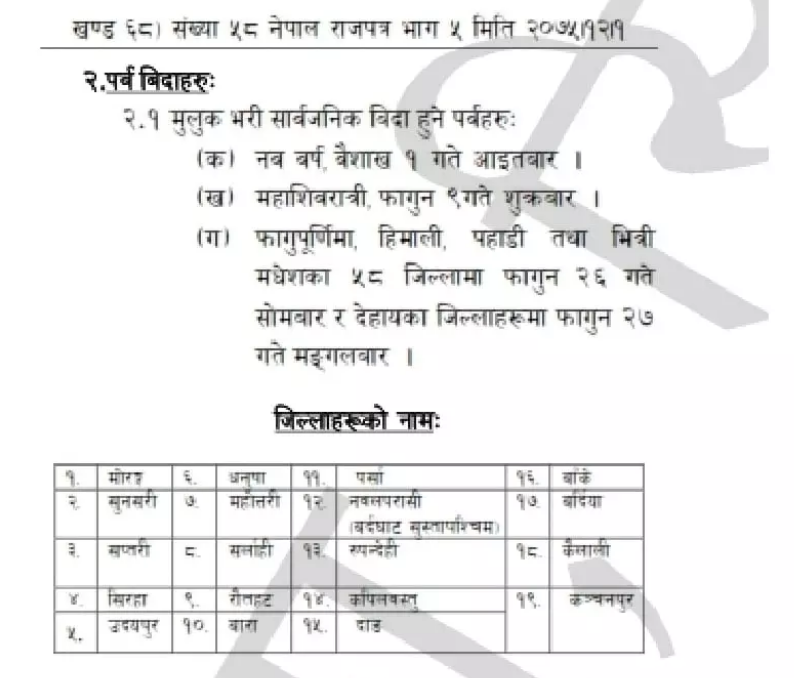 3. Holidays for the civil servant representing specific religion or culture
Ubhauli Festival (Chandi Purnima) of Kirat, Rai, Limbu : Jestha 4, Saturday
Gaura Festival: Bhadra 6, Friday
Eid for people following Muslim Religion (Eid al-Fitr)
Chhath Festival: Kartik 16 Saturday
Bakar Eid for people following Muslim Religion
Udhaulai Festival, Yomari Punhi-Jyapu Diwas, (Mangsir Purnima, Dhanya Purnima) Christmas Day for people following Christian religion: Mangsir 26, Thursday
Tamu Lhosar: Poush 15, Tuesday
Maghe Sakranti and Maghi Festival: Magh 1, Wednesday
Sonam Lhosar: Magh 11, Saturday
Gyalpo Lhosar (For indigineous people of Himal and Sherpa): Falgun 12, Monday
Siruwapawani Festival (for Jhapa, Morang, Sunsari, Siraha and Saptari)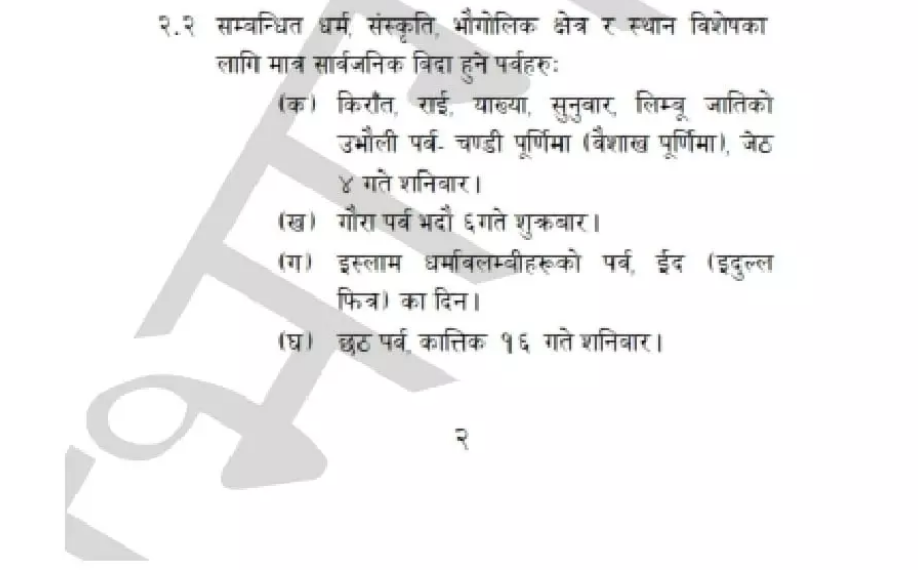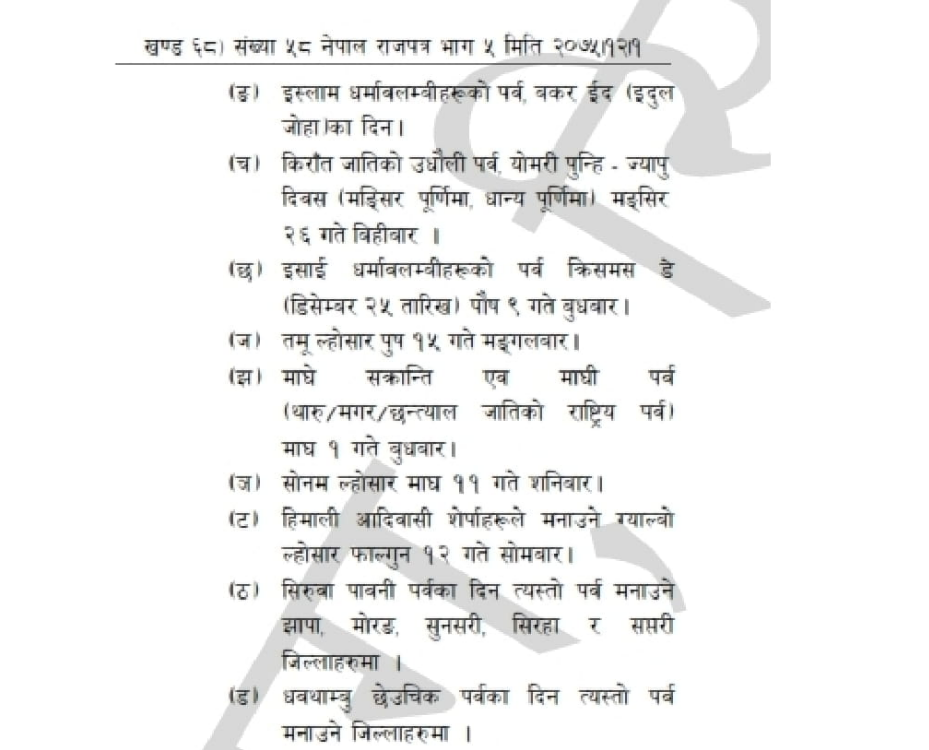 4. Female Employees only
Haritalika (Teej): Bhadra 16 (Monday)
Jitiya Festival: Ashoj 5 (for women employee who celebrates Jitiya festival)
5.Education Institutions only
Basant Panchami: Magh 16 (Thursday)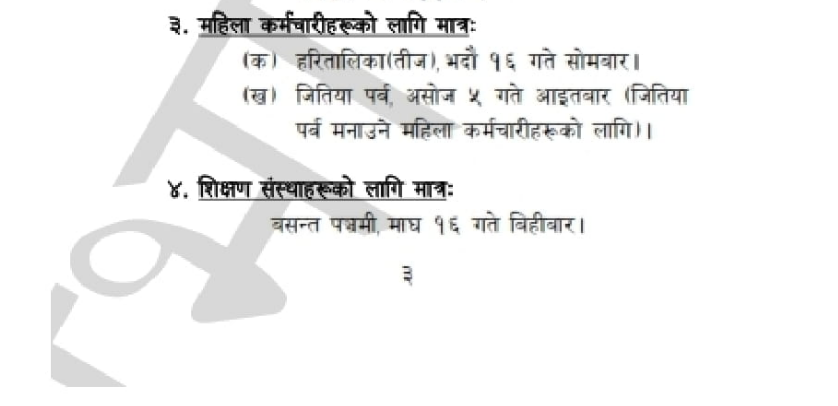 6. Jatra Holidays (Kathmandu Valley Only)

Gaijatra: Sharwan 31 (Friday)
Indrajatra: Bhadra 27 (Friday)
Machhandra Nath ko Voto Dekhaune Jatra
Ghode Jatra: Chaitra 11 (Tuesday)
7. Dashain Holidays
Ashoj 18 Saturday to Ashoj 22 Wednesday (From Fulpati to Ekadashi)
8. Tihar Holidays
a. Laxmi Puja: Kartik 10 (Sunday)
b. Govardhan Puja, Mha Puja, Nepal Sambat: Kartik 11 (Monday)
c. Bhai Tika: Kartik 12 (Tuesday)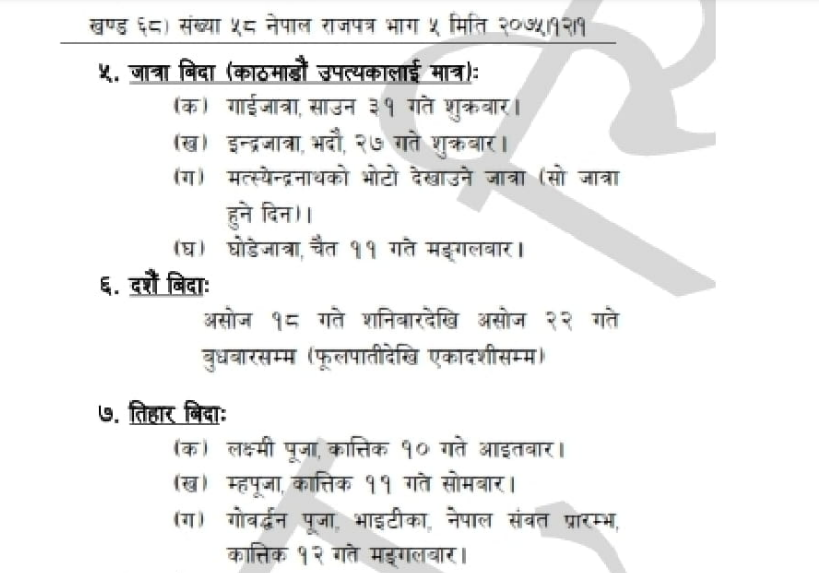 Diwas (Day) Holiday: All over Nepal
May Day (May 1): Baishakh 18 (Wednesday)
Constitution Day (Rastriya Diwas): Ashoj 3 (Friday)
International Woman Day (March 8): Falgun 25 (Sunday)
For People with disabilities on International Day of Disabled Persons (December 3): Mangsir 17, Tuesday (For employees working within Nepal only)