The Kantipur Hissan Edu Fair has yet again attained it objective to be a key meeting point for students and institutions, drawing more than 200,000 visitors, including students and their parents, to this year's event which concluded on Sunday.
The four-day fair, jointly organised by Kantipur Publications and Hissan at Bhrikutimandap, with a motto "Excellent Education within Nepal" featured more than 150 stalls of different institutions offering a wide range of courses.
The event received an overwhelming response, with visitors saying that it allowed them to choose and compare among the institutions under one roof.

"The fair has served as a bridge between students and the best institutions of the country. This single platform has allowed us to weigh facilities and quality of education the institutions have to offer, making it easier to reach a final decision," said Sain Giri, a student who visited the fair. With crowds milling around almost every stall, volunteers were busy counselling the visitors at their stalls and providing additional information about their institutions.
"Visitors must be allowed to visit the stalls on their own and no persuasion should be done by the institutions," Principal of NASA International College Sudhir Jha said, suggesting that the organisers minimise such persuasion in the next fairs to come.
Reducing the number of students flying abroad for higher studies to zero has been one of the goals of the fair. Around 30,000 Nepali students go abroad every year to pursue higher education. Over the years, the fair has been providing the right information on quality education within Nepal to students at the crossroads of a career and help them sift through the multitude of options to zero in on the right college and course.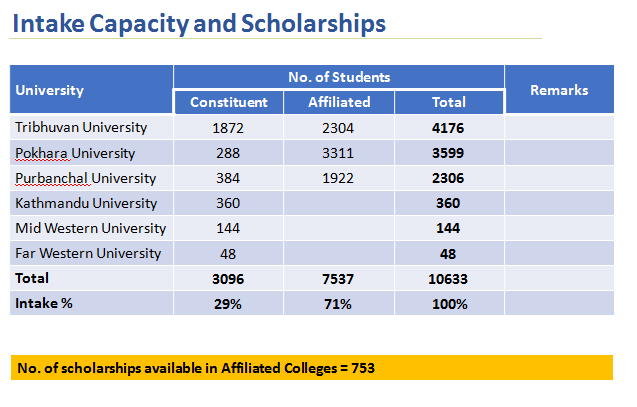 Jesika Thapa, a parent who had visited the fair, said: "I was asking my child to do IELTS. But having been counselled at the fair, I will tell my son to join one of the colleges here itself. I found that even our nation has the best institutions for higher studies.

" Hissan has promised to lend support the government in developing the nation as an education hub by making every possible effort to attain the goal. Hissan also said it is ready to incorporate technical education in its institutions so that they can produce quality manpower for the nation.
"The fifth annual fair became more successful than we expected. We have received lots of feedback and are determined to work over it. The next fair will be better than this one," General Secretary of Hissan Lok Bahadur Bhandari said.