RESULTS ENTRANCE EXAMINATION 2072 (2016)
POSTGRADUATE ACADEMIC PROGRAM
(MDS, MD Kayachikitsa, MPH/ MHP&E/ MPHN, M.Sc. MIT, M.Sc. Cl. Microbiology, M.Sc. Cl. Biochemistry, M.Phil. Cl. Psychology & MN)
Post graduate Entrance Examination Committee — 2016 under the Examination Control Division of the Institute of Medicine publishes the results of Postgraduate Entrance Examination held on Chaitra 13, 2072 (March 26, 2016) & Chaitra 14, 2072 (March 27, 2016).
The eligible and successful candidates of the respective programs according to the merit list are required to attend open house counseling for the final selection according to the availability of seats in different academic program under different categories. Each candidate will be invited strictly in order of merit to select the program of his/her choice among the seats that are available at the time of his/her turn during the open house counseling.
All Nepalese candidates selected for admission to MDS & MD Kayachikitsa programs from open category will have to sign a 5 year service bond as per rules of Ministry of Health (MOH), Government of Nepal.
The candidates are hereby notified to attend the open house counseling in person. Representatives of the candidates will not be entertained. The Institute will not be responsible for any unforeseen events preventing the candidate from reaching the venue at allocated date and time for the counseling. The candidate will be considered absent under such circumstances, and the opportunity for selection will be given to the next candidate according to the merit list.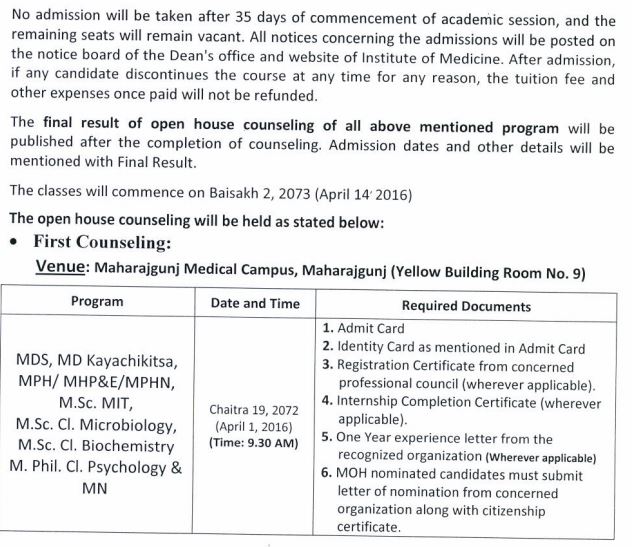 Download the PG Entrance Examination result MERIT LIST with Full Notice