Higher Secondary Education Board (HSEB) today publishes an urgent notice seeking application from colleges to add Sports Science and/or Law in their plus two level programs for the academic year 2073/74.
Who can apply?
All the plus two colleges can apply to run program in Sports Science
Only community campuses can apply to run Law program in Law.
Application deadline: 2073 Ashad 25.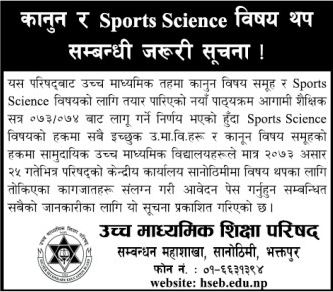 You can find information about various Plus two level courses of HSEB here: