April 25, 2019, CHHATRA KARKI/DHURBA DANGAL - It was only after Purna Gautam cleared his School Leaving Certificate (SLC) examinations 35 years ago that he first dreamed of becoming an engineer. He got admission to Pulchowk Campus to pursue a certificate level engineering course.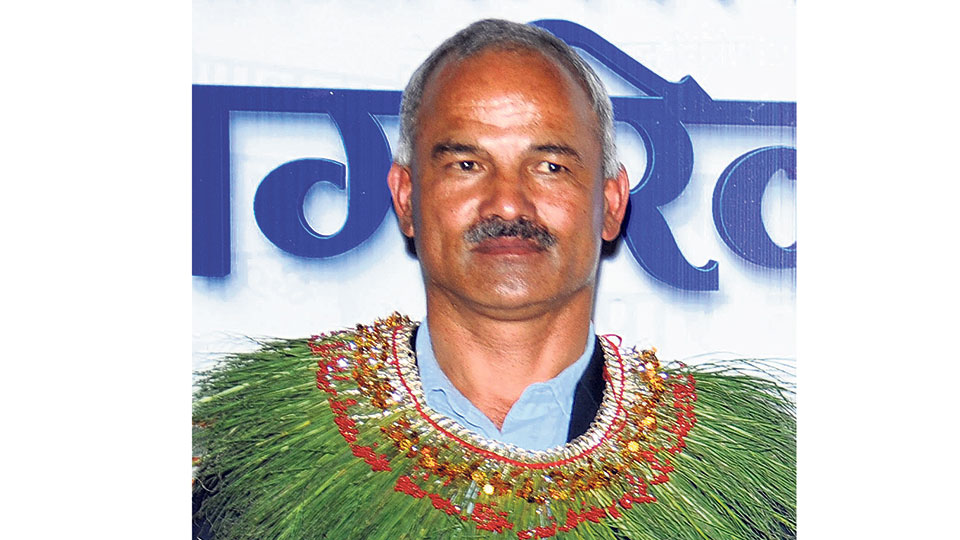 When the campus shut down for the 50-day winter vacation, his friends suggested a trek to Helambu. One of his friends claimed that the area was still pristine and brimming with natural beauty. In the two months following, when Gautam, then 18, set out on the Helambu trek, he had no idea it would be a turning point of his life.

On a misty morning in November, Gautam and his friends caught their first glimpse of Melamchi Ghyang (monastery).
On the way to the village, they met a lot of local children but they all would dash away when Gautam's group tried to communicate with them.
"Why are all of your children running away from us?" Purna asked the villagers.
"They do not understand Nepali," one of the villagers answered.
The answer sparked a deep pang in Gautam's heart. They were children of Nepal and yet they did not understand Nepali . He first talked with some of the villagers and then held a meeting with the village chief about establishing a school for local children.
The natural beauty of the village had enticed Gautam. "The families, the society, the culture and civilization, traditions, lifestyle were all different from other places," he recollected. "In addition, the natural beauty was beyond compare." He was flabbergasted by the way the villagers treated them as guests. He realized that the village was not an ordinary one.
On one hand, there were the friendly villagers, on the other, there was no school for their children . The villagers wanted him to stay back and teach the children, but they did not dare to ask for something from a guest.
At that moment something within propelled Gautam and he decided to start a school. "I will go home and bid farewell to my parents and return to teach your children," Gautam promised the villagers .
He reached home in Kavrepalanchowk in three days and after two months of constant persuading, his parents finally let him go back to Helambu, forsaking a lucrative engineering degree. At Melamchi Ghyang, Gautam was supported by both the village chief and Gorakhnath Primary School of Tarke Ghyang. He started off teaching the children in the verandas of locals' houses as a branch of Gorakhnath school. He lived on the food provided by the villagers.
In 1985, the school was recognized by the government as a branch school and Gautam started receiving a monthly salary of Rs 200. Three years later, the school was turned into Melamchi Ghyang Primary School and Gautam was chosen as the principal .
The school picked up pace with time and by now it has already produced its 13th SLC batch . Students from the school have secured distinction or first division in the SLC for the past few years and this has won it popularity across Nepal . Now, children from districts as far as Ilam, Kathmandu, Biratnagar and Dolakha study there.
Along with running the school, Gautam also pursued his own higher education through self-study. In 1989, he took a year's leave to continue his education in the capital. He attempted an examination at Pulchowk Campus again but did not make it .
"I made up my mind to study something else," he recalled. He enrolled himself in Mahendra Ratna Campus to pursue a degree in Mathematics and brought the necessary books back to Melamchi Ghyang to study on his own. But the subject proved to be too difficult for self-study. In the end, Gautam studied law at Nepal Law Campus. He graduated with an Intermediate in Law (IL) and a Bachelors (BL) . He added a Masters in Sociology to his credentials a year later.
The 2015 mega earthquake severely damaged Melamchi Ghyang School. With financial assistance from a Swiss organization, the building for students up to grade 11 has been reconstructed . A British organization has helped build an 18 room hostel. Another 16 rooms are needed. The school currently has 18 teachers and 320 students.
Gautam feels he has not lost anything by leaving his family behind. He, instead, has a vision of educating children with a different approach. "We want to train our students so that they can learn about various contemporary issues," he said, "We want students to be responsible global citizens."