National Examination Board (NEB) published the results of Grade 12 Science today. The examination of grade 12 was held in in Baishakh, 2073 from 20th Baishakh to 31st Baishakh.
NOW YOU CAN check YOUR results with marksheet online in hseb.edusanjal.com.
According to Santosh Aryal, Deputy Examination Controller of NEB, Out of a total of 40,603 students, who had appeared in the examinations under the regular category, 29,952 have passed the exams.
The pass percentage of students under regular category stands at 73.77%.
Similarly, among 9,781 students, sat for the exempted category, 4,414 have passed the exams.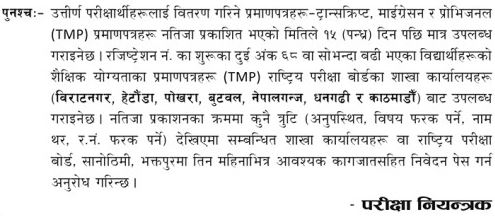 Result Statistics of 2073 and 2072-Regular
| | | |
| --- | --- | --- |
| Title | 2073 BS (this year) | 2072 BS |
| Total Number of Examinees | 40,603 | 37,998 |
| Total Number of Passed Examinee | 29,952 | 27,227 |
| Pass Percentage | 73.77% | 71.65% |
| Result postponed | - | - |
| Exam Cancelled | 2 | 57 |
In Partial Category
| | | |
| --- | --- | --- |
| Title | 2073 BS (this year) | 2072 BS |
| Total Number of Examinees | 9781 | 8406 |
| Total Number of Passed Examinee | 4414 | 3724 |
| Pass Percentage | 45.13% | 44.30% |
| Result postponed | - | - |
| Exam Cancelled | 3 | 13 |