Kavrepalanchowk, April 24 (RSS): Prime Minister KP Sharma Oli has said the government would produce globally competitive human resources. PM Oli said it at a programme organized to inaugurate the new building of a local Sanjiwani Model Secondary School in the district on Wednesday. The school building was constructed with the support of the Asian Development Bank (ADB).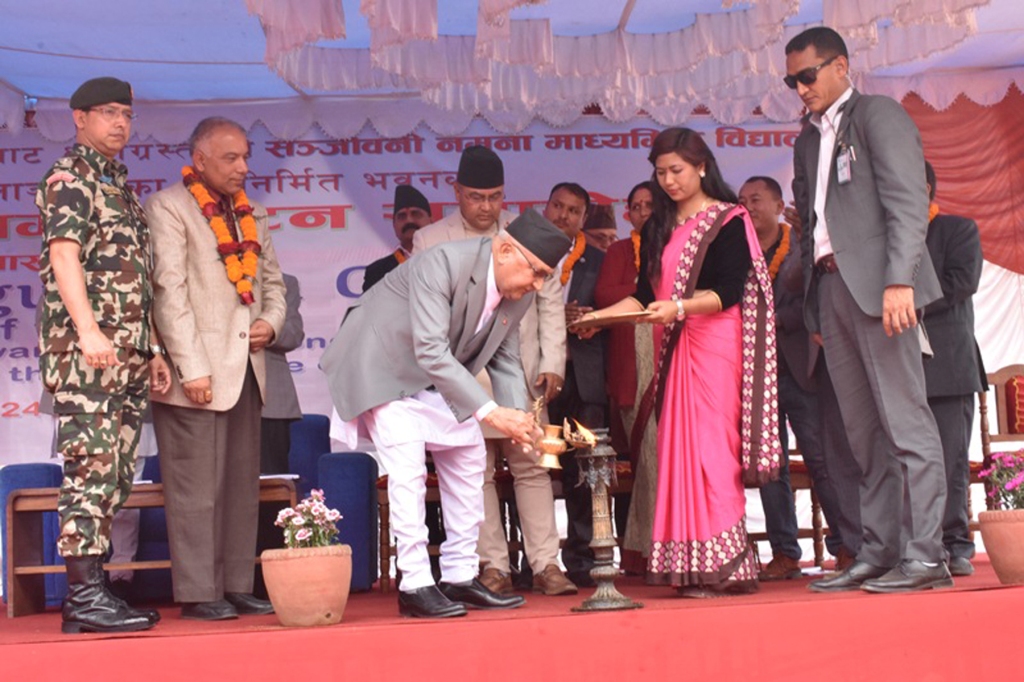 On the occasion, PM Oli reiterated that experts of various subjects as medical science, engineering, and education would be produced in the country, so that they could compete with those from foreign countries. "We can not imagine illiteracy, backwardness and poverty in the country rich in natural resources. The poverty and illiteracy would be made history soon," he argued, adding that government was focused on building 'digital Nepal, educated Nepal, and intellectual people's Nepal.'
According to the PM, only qualified teachers could ensure quality education. In the age of information technology, education should be catered accordingly. "There is a general concept that quality education is ensured in the schools which impose high fee. Time has come to change community education. For this, federal government makes thorough study on it as soon as possible," he viewed.
The PM made aware the guardians that the development of technology has also resulted in negative impacts, so it was better to keep the children away from mobile phone.
He asserted that reconstruction activities had gained pace and hoped that most of the structures except the archaeological ones would be reconstructed within one year. "The earthquake occurred this morning has reminded us to construct quake resistant houses and buildings," the PM emphasized.
On the occasion, Minister for Communications and Information Technology, Gokul Prasad Banskota, shared that educational experts had suggested on focusing English education in community schools, so government was mulling it. "We constructed strong building, now focus would be laid on policy reform," he added.
Similarly, National Reconstruction Authority (NRA) Executive Director, Sushil Gyawali, shared that out of 7,923 schools damaged by the earthquake, a total of 3,583 schools were reconstructed so far. He expressed his happiness over the sight of students keeping up with their studies in the strong and reconstructed buildings.
Likewise, ADB Country Director Mukhtor Khamudkhanov also expressed his happiness over the timely reconstruction of the quake-damaged school. He said, "We are pleased to know that our assistance has been utilized in the best manner."
Moreover, Dhulikhel Municipality Mayor Ashok Byanju urged other schools to follow the suit of the Sanjiwani Model Secondary School which conducts teaching learning activities among the students enrolled in the limited seat.
On the occasion, 15.55-km Khopasi-Dhungakharka to Chyamrangbeshi-Milche-Borang road and Telkot-Nagarkot to Bhatte Danda measuring 7.77 km road built in grant assistance of ADB and technical support of the Swiss Development Agency were handed over to the Physical Development Office of State-3.