KATHMANDU, Despite objections from the Nepali Congress and senior orthopedic surgeon Dr Govinda KC, the government on Friday registered the National Medical Education Bill at the Parliament Secretariat, making no major changes in the bill to replace the Medical Education Ordinance.
At a time when Dr KC has been staging an indefinite hunger strike in Jumla against changes in the ordinance, Minister for Education, Science and Technology Giriraj Mani Pokhrel registered the bill without addressing the concerns raised by the orthopaedic surgeon.
Khagaraj Baral, secretary at the ministry, said the bill registered on Friday was no different from the replacement bill withdrawn earlier.
The bill to replace the Medical Education Ordinance, registered in Parliament earlier, courted controversy after its major provisions were altered so as to allow establishment of new medical colleges in Kathmandu Valley.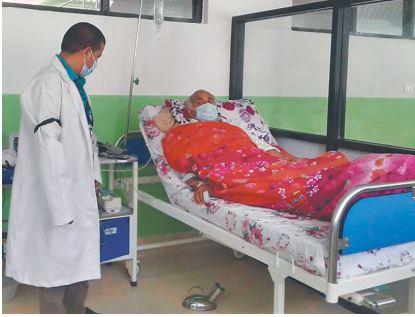 A doctor visits fasting campaigner Dr Govinda KC at the Karnali Academy of Health Sciences in Jumla on Friday. (Photo Courtesy: The Kathmandu Post)

The government withdrew the replacement bill after protests by the opposition Nepali Congress over both the process and content of the legislation. Following its withdrawal from Parliament, the ordinance became void on July 4. Gopal Nath Yogi, secretary for the House of Representatives, confirmed registration of the bill at the secretariat.
The Medical Education Ordinance had barred the opening of new medical colleges in Kathmandu Valley for 10 years and required a medical college to run a hospital for at least three years to be eligible for affiliation. The ordinance also barred a university from granting affiliation to more than five medical colleges besides making it mandatory to provide 75 percent scholarships to needy students.
Critics read the move as the Nepal Communist Party (NCP) leaders' bid to clear the way for making the Manmohan Medical College and the National Medical College in Kathmandu and B & C Medical College in Jhapa, among others, teaching hospitals. Commenting on the bill, former health minister and NC lawmaker Gagan Thapa said this was not an ordinary and regular bill since it has the mandate and legacy of a sustained civic movement led by Dr KC pressing for reforms in the country's medical education sector.
Thapa hinted that the NC could obstruct discussions on the bill in Parliament. He said that the bill did not simply originate in the Education Ministry but was the outcome of the civic movements and agreements reached by successive governments with Dr KC and the recommendations of the Kedar Bhakta Mathema-led Commission.
~The Kathmandu Post