Aug 28, 2018-The government has announced two day holiday for academic institutions inside Kathmandu valley in view of Bay of Bengal Initiative for Multi-Sectoral Technical and Economic Cooperation (BIMSTEC) summit being held on August 30 and 31.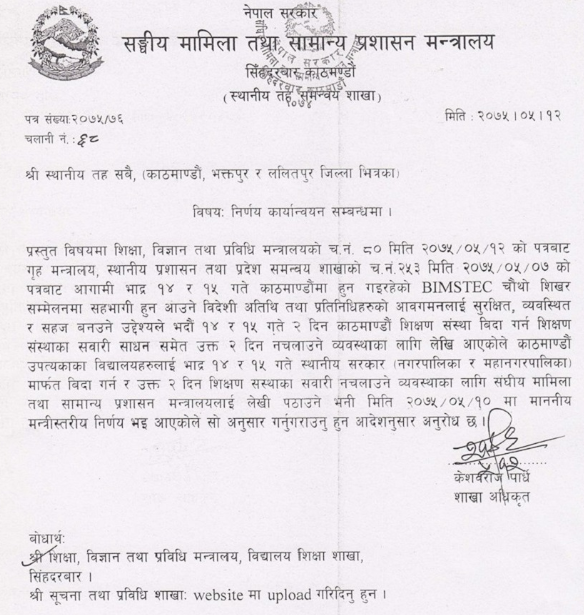 The Ministry of Education, Science and Technology had issued an circular to valley schools/colleges to grant holiday on August 30 and 31 through local levels in three valley districts. The summit of the Bay of Bengal Initiative for Multi-Sectoral Initiative for Technical and Economic Cooperation (BIMSTEC) is taking place from August 30-31 in the central capital. The government took the decision to this effect today in a bid to make arrival of the foreign dignitaries coming to partake in the event safe, secured and well arranged.
A press statement issued on Tuesday by Ministry of Federal Affairs and General Administration along with the letter sent by the Education Ministry stated that the holidays be granted on those two days in view of the BIMSTEC meet. The statement has also urged valley schools not to operate their vehicles during the holidays so as to facilitate the travel of BIMSTEC dignitaries during the summit.
Similarly, even-odd number system for vehicles however would not be applied to the ambulances, fire brigades, vehicles with the card issued by the Department of Information and those bearing BIMSTEC cards, according to the Ministry of Home Affairs.
Any vehicles, however, could ply the roads in the Valley from 10 pm- 6 am on those two days.