Representative of various agitating students' unions, Private and Boarding Schools' Organization Nepal (PABSON), National PABSON and Guardian's Association of Nepal and Ministry of Education officials agreed to withdraw the recent fee hike of institutional schools.
With this agreement the decision to hike the tuition fee from 10 per cent to more than 40 per cent for the current academic session has been revoked.
The meeting was held at Ministry of Education, Singha Durbar on Baishakha 6,, 2072.
The nine agitating student unions aligned to various political parties, including the ruling Nepali Congress aligned Nepal Students Union, CPN-UML aligned All Nepal National Free Students Union and others were protesting across the country, demanding revocation of the decision to hike tuition fees. With the agreements, students unions withdraw their protest programme.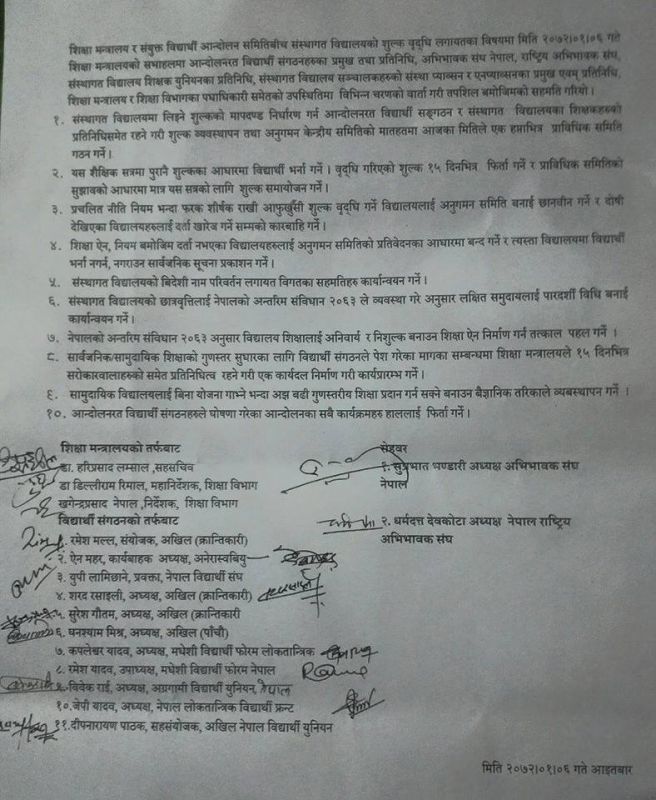 Other agreements reached are, formation of High level technical committee to determine the fee of the schools, changing the foreign name of institutional schools, enrollment of students according to old fee for current academic sessions, closure of unregistered schools among others.