DB Budha- JUMLA, Feb 25: Sunita Rawat is supposed to be attending school these days. The third grader at Kalika Primary School has, however, has remained absent from school for a long time. Nowadays she is mostly found collecting leafy green vegetable from her family's barley fields.
"This is what my family members tell me to do. If I don't collect the leafy green vegetables, we won't have a proper meal to eat," the 11-year-old from Tila Rural Municipality said. "My school is a bit far, I have not attended it for a month now."
For a month means she has not attended school since the new session started. After taking the final examination of the second grade, she has not gone to school. "I have not gone to school since the new session started. Even if I go, teachers don't come," she said while saying that she was not sure if the teachers are still irregular nowadays. "My peers say teachers don't come to school regularly. So why should I go?"
The young girl's parents', who asked her to work at home instead of going to school defended their decision stating that some other village children also don't go to school. They shared that she has been performing an important role by picking vegetables for the family from the farms.
"We had sent her to school. New classes have just started, and they are not regular either. But here at home, there is a lot of work to do. If children don't aid us in household chores, it becomes very difficult for the family," they said.
Leafy green vegetables are a staple for local families during this season. With the food stock very low, families mostly depend on these vegetables for meals. "We prepare leafy vegetable soup for lunch as well as dinner. Collecting them is very essential for our family to sustain," the mother said.
While the elders were discussing her school and chores she needed to do at home, Rawat was keenly listening to the conversation. She later complained that she has not been able to go to school as her family members don't allow. "They want me to work at home instead of going to school."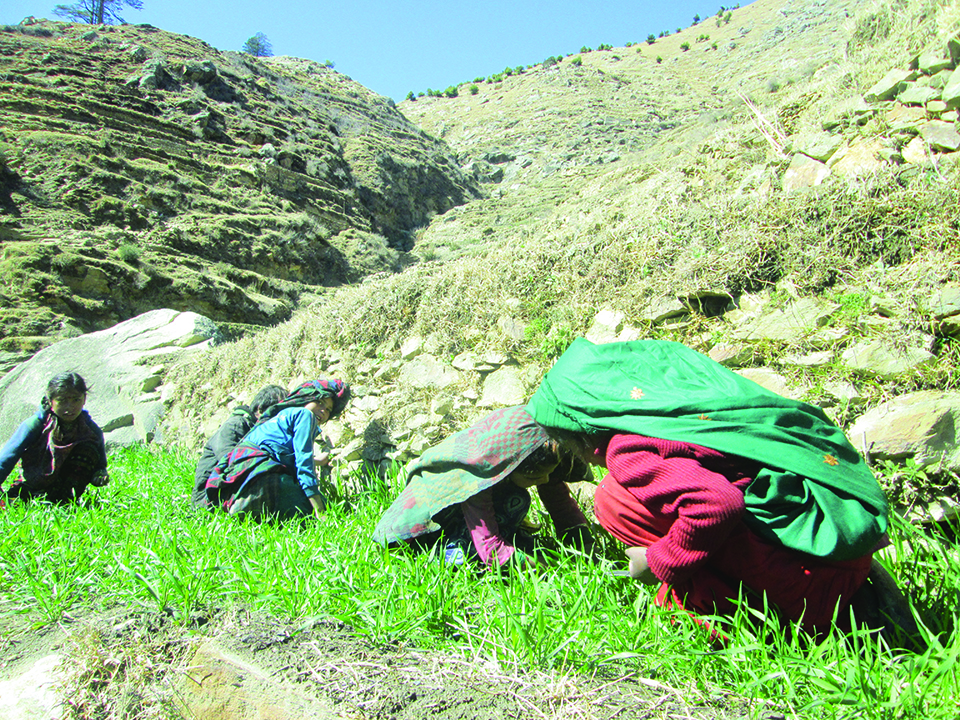 Kalpana Bohora, Rawat's classmate shared a similar story. Because she needs to work at home, she also has not been attending her classes at school. "It has been a month since the new session started. But we have not been able to attend the school," she said. "I also work at home and assist my family by collecting leafy green vegetables for the meals."

Even if girls attend school, in their leisure time they are supposed to work in the farms. "It is easier to work without going to school. If we go to school, teachers give us homework, and we don't get time to do homework as we have to work at home," Bohora said. "Our family becomes very happy if we are able to collect a bigger quantity of leafy green vegetables."
This the story of most of the girls in the rural area of Jumla. Some families consider sending girls to school, but prioritizing girls education is rare.
"We also don't love to attend school because if we go, we have to study at school and work in the farms after returning from school. It's very tiresome," Bohora remarked. Though presently families ask their daughters to collect leafy green vegetables from the farms, in other seasons they ask them to collect fodder and firewood, look after the cattle along with cleaning and wiping at home. "Boys also work, but we work much more than them," Bohora said.
According to a local teacher Birendra Rokaya, it is the fault of both the school management and parents that children remain out of school for months. When that happens, children are not able to perform well in their academics. "It is mandatory to send to upper classes even if primary school students fail in their exams. Since they are not regular at school, they hardly study all the lessons," he said.
Rokaya stated that the lack of awareness among parents make them feel that it is okay for kids to escape school. On the other hand, poor school management lets teachers take the matter lightly too.
"Some children who are really good in studies love to come to school. But even such students are discouraged due to the negligence of the parents and the school administration," he noted.
According to him, though girls are often made engaged in household chores, boys, if they are from poor families, are mostly sent to work to earn for the family. "Most of our students are not regular. Families with a poor financial background hardly value the education of their children. If they have a son, they send him to work at construction sites," he said, putting the blame on the local government for failing to improve the situation.