BAITADI, With great determination to enter the civil service, as many as 80 women have been attending preparation classes to take the Public Service Commission (PSC) examination in Baitadi district.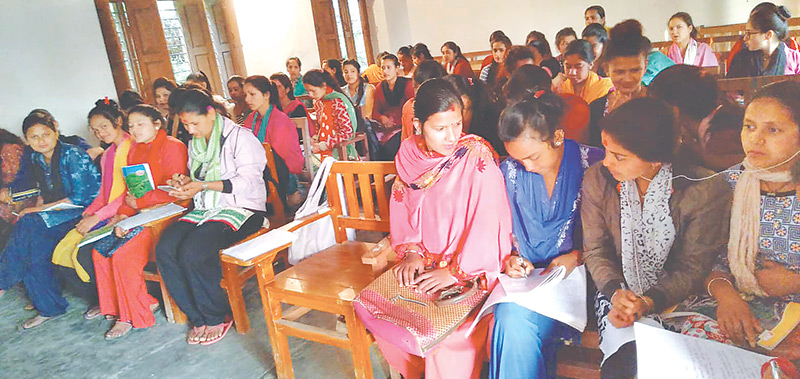 Girls and women attend a class to prepare for the Public Service Commission (PSC) examination in Baitadi district. Post Photo: TRIPTI SHAHI
The women—from various villages in the district—are enthusiastically taking the classes to prepare for the PSC examination for positions of Subba (non-gazetted first class officer) and Kharidar (non-gazetted second class officer). Though there are 30 quotas each for Subba and Kharidar, 80 women have been taking the preparation classes arranged free of cost.
With financial assistance by the Social Development Ministry of Sudurpaschim Province, the Dhangadhi-based Career Development and Counseling Service Centre has been running the free PSC preparation classes in Jagannath Multiple Campus in Gothalapani. The classes are being run in the mornings and evenings for three months.
"I work during the day and attend the preparation classes in the morning and evening. I am quite happy to get the opportunity to attend free preparation classes," said Priya Chand, a resident of Pancheshwor Rural Municipality-3. "I could not leave my job and go to other towns and cities to attend such classes due to financial crunch. But, these free-of-cost classes that are organised close to home are encouraging us to work hard for the PSC exam and enter the civil service," she added.
Jhum Adhikari, the manager of the centre, said that classes were being arranged with an objective to increase women participation in civil service. The classes were started targeting women from rural areas, he added.
According to Adhikari, women from all local units have been attending the preparation classes. He claimed the women were included in the classes in coordination with the local bodies, and the district-based government officers were facilitating the preparation classes. "The government officers take classes in turn and we have been providing remuneration to them. We expect this move to be a success," said Adhikari.
"The free-of-cost preparation classes have encouraged women to move forward. We are enthusiastic to study, and we will work hard," said Nirmala Bista, a participant from Sunarya Rural Municipality.