Cambridge International Examinations is delighted to announce the winners of the Outstanding Cambridge Learner Awards in Nepal. The awards celebrate the exceptional academic performance of secondary school learners in Nepal in the June 2015 and November 2015 Cambridge examination series.
The Outstanding Cambridge Learner Awards were presented at Hotel Himalayan, Kupondole, Kathmandu on 21 April 2016. The Honourable Vice President of Nepal, Mr. Nanda Kumar Pun, attended the ceremony as the chief guest.
48 learners from 14 schools received awards, including 5 learners who achieved the highest marks in the world and 26 learners who attained the highest marks in Nepal in a single Cambridge International AS & A Level subject. Students excelled in a diverse range of subjects including English Literature, Mathematics, Chemistry, Biology and Business Studies.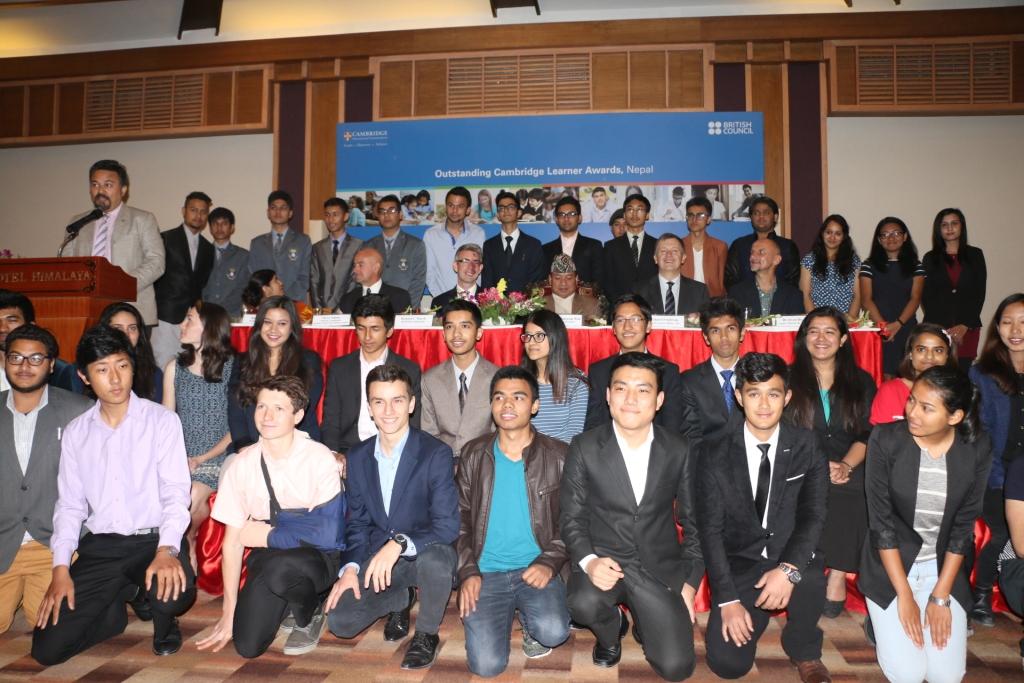 The awards also celebrated the achievements of those learners who have been recognised for 'High Achievement' based on outstanding performance in subjects which are not yet so widely taken in Nepal, and learners who have achieved the total highest cumulative marks across a number of subjects. The winning learners out-performed thousands of candidates worldwide who sat for Cambridge International AS & A Level examinations.
Ruchira Ghosh, Regional Director, South Asia, Cambridge International Examinations, said that today's students need a wider range of skills to equip them for the world ahead of them: "We are delighted to see such great performance by our learners in Nepal. It demonstrates their dedication and hard work to succeed academically and the commitment of their teachers. Our qualifications are highly regarded by universities and employers internationally and we are confident this achievement will equip our learners for higher education and future endeavours in life out of school."
Dr Jovan Ilic, Country Director British Council Nepal said, "Congratulations to Cambridge learners on their excellent results. These are particularly impressive given the very challenging year that Nepal had in 2015, and we are delighted that students have managed to perform so well."
"It has been a difficult year for Nepal in so many ways. The young people receiving awards at this event have shown incredible standards of hard work and dedication in order to overcome these challenges, and this has impressed me deeply. Thus, I am proud to celebrate this success, and hope that it signals a much happier and fortunate year for this country and its youth" said Steve Adams, Director Examinations South Asia, British Council.
The students received their awards at a ceremony hosted by Cambridge International Examinations and British Council this month and attended by Michael O'Sullivan, Chief Executive, Cambridge International Examinations, Ruchira Ghosh, Cambridge Regional Director, South Asia along with Dr Jovan Ilic, Country Director, British Council Nepal and Steve Adams, Regional Director Examinations South Asia.
Top in the World
June 2015 examination series

Subject

Name

School name

Qualification level

Language & Literature in English

Ural Singh Mishra

Cambridge International AS Level
November 2015 examination series

Subject

Name

School name

Qualification level

General Paper (International)

Yash Nishaant

Cambridge International AS Level

Mathematics

Pranav Shrestha

Cambridge International AS Level

Mathematics

Shardul Sapkota

Cambridge International AS Level

Sociology

Sanskriti Timseena

Chelsea International Academy

Cambridge International A Level
Top in Nepal
June 2015 examination series

Subject

Name

School name

Qualification level

English Language

Yobin Timilsena

Cambridge International AS Level

Mathematics

Vedant Singh

The British School, Kathmandu

Cambridge International AS Level

Biology

Evaniya Shakya

Cambridge International A Level

Business Studies

Jivan Kharel

Cambridge International A Level

Chemistry

Saroj Niraula

Cambridge International A Level

Economics

Sarthak Mani Sharma

Cambridge International A Level

Mathematics

Saroj Niraula

Cambridge International A Level

Physics

Ronast Subedi

Cambridge International A Level
November 2015 examination series

Subject

Name

School name

Qualification level

Accounting

Shivani Chaudhary

Trinity International College

Cambridge International AS Level

Biology

Aayushi Dangol

Cambridge International AS Level

Biology

Dakshya Karki

Trinity International College

Cambridge International AS Level

Biology

Neema Norbu Sherpa

Cambridge International AS Level

Business Studies

Sakchham Karki

Cambridge International AS Level

Chemistry

Bhargav Poudel

Xavier International College

Cambridge International AS Level

Computer Science

Bhargav Poudel

Xavier International College

Cambridge International AS Level

Economics

Ujjwal Ghimire

Saipal Academy

Cambridge International AS Level

English Language

Binam Poudyal

Cambridge International AS Level

Environmental Management

Apara Sharma

Cambridge International AS Level

General Paper

Neema Norbu Sherpa

Cambridge International AS Level

Physics

Bhargav Poudel

Xavier International College

Cambridge International AS Level

Psychology

Ayush Kumar Shah

Trinity International College

Cambridge International AS Level

Sociology

Ayush Kumar Shah

Trinity International College

Cambridge International AS Level

Accounting

Vashistha Manjul Awasthi

Global College International

Cambridge International A Level

Biology

Shaili Regmi

Trinity International College

Cambridge International A Level

Business Studies

Suvasini Sherchan

Cambridge International A Level

Chemistry

Shaili Regmi

Trinity International College

Cambridge International A Level

Computer Science

Sulav Baskota

Xavier International College

Cambridge International A Level

Computing

Ruchit Shrestha

Chelsea International Academy

Cambridge International A Level

Mathematics

Pranita Dhungana

Trinity International College

Cambridge International A Level

Mathematics

Pratik Chaudhary

Xavier International College

Cambridge International A Level

Mathematics

Shaili Regmi

Trinity International College

Cambridge International A Level

Physics

Roshan Poudel

Chelsea International Academy

Cambridge International A Level
High Achievement
June 2015 examination series

Subject

Name

School name

Qualification level

Biology

Rosanna Bethany Clewett

The British School, Kathmandu

Cambridge International AS Level

Biology

Saurav Uprety

Kathmandu International Study Centre

Cambridge International AS Level

Business Studies

Himanshu Hridayesh Tripathi

The British School, Kathmandu

Cambridge International AS Level

Chemistry

Hugues Wagnon

The British School, Kathmandu

Cambridge International AS Level

Economics

Vedant Singh

The British School, Kathmandu

Cambridge International AS Level

French Language

David Savino

The British School, Kathmandu

Cambridge International AS Level

General Paper

Suraj Bhandari

Cambridge International AS Level

Geography

Rosanna Bethany Clewett

The British School, Kathmandu

Cambridge International AS Level

History

Abhishek Khetan

The British School, Kathmandu

Cambridge International AS Level

Physics

Vedant Singh

The British School, Kathmandu

Cambridge International AS Level

Thinking Skills

Shubhayu Guha Khasnobis

The British School, Kathmandu

Cambridge International AS Level

Accounting

Anish Kafle

Cambridge International A Level

Art & Design

Abigail Grace Knoble

Kathmandu International Study Centre

Cambridge International A Level

Further Mathematics

Nischal Mainali

Cambridge International A Level

Further Mathematics

Saroj Niraula

Cambridge International A Level

Geography

Kirtika Agrawal

The British School, Kathmandu

Cambridge International A Level

Psychology

Shubhashree Basnyat

Cambridge International A Level
November 2015 examination series

Subject

Name

School name

Qualification level

Computing

Koki Hamaguchi

Little Angels College

Cambridge International AS Level

History

Aasha Chhetri

The British School, Kathmandu

Cambridge International AS Level

Language & Literature in English

Wangden Phintso Sherpa

Cambridge International AS Level
Best Across awards
June 2015 examination series

Award

Name

School name

Place

Best Across Four Cambridge

International AS Levels

Vedant Singh

The British School, Kathmandu

First place in Nepal

Best Across Three Cambridge

International A Levels

Saroj Niraula

First place in Nepal
November 2015 examination series

Award

Name

School name

Place

Best Across Four Cambridge

International AS Levels

Bhargav Poudel

Xavier International College

First place in Nepal

Best Across Three Cambridge

International A Levels

Pratik Chaudhary

Xavier International College

First place in Nepal