Tribhuvan University Exam Controller office today (Bhadra 1) publishes the revised examination schedule of 3 years LLB 2nd year & BL 2nd year (Chance)-2074.
The examination will start from Bhadra 11 and will end on Bhadra 29.
Examination Time: 7 am to 10 am.
Update Bhadra 15:
Tribhuvan University examination controller office postponed the examination of LLB second year and BL chance examination scheduled for Bhadra 17 citing special reasons. These postponed examination will be held on the same examination center at the same time on Bhadra 31, 2074.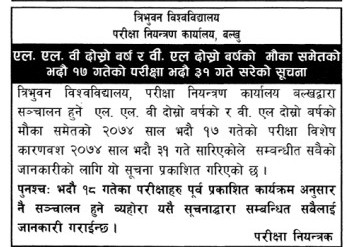 <<CLICK HERE>> to view 3 Year BA, B.Ed. B.Sc First Year and BL/LLB 2nd year Exam Center Notice