Update June 18, 2019,
Tribhuvan University, Office of Controller of Examination publishes a notice regarding the amendment of exam schedule of Four Years Bachelor of Science (B.Sc) Second Year and Three Years LL.B First Year.
Details in the official notice below: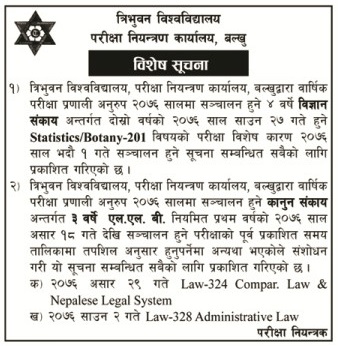 Previous Notice
Tribhuvan University, Exam Controller Office, Balkhu has published the regular examination routine for 3 years LL.B First year for the academic year 2075. The examination will be held from Ashadh 18, 2076 onwards.
Examination Time: 12:00 pm to 3:00 pm
Special Notice:
Applicants who are left to submit the application form for the examination can submit the application on Jestha 27, 2076 by paying double fee.
Find LL.B First Year regular exam routine 2075 in the notice below: