Tribhuvan University office of the controller of Examination Balkhu today publishes the examination schedule of Third year programs of 4 years BBS, 4 years B.Sc regular and partial and chance examination of 3 years BBS program.
The examination will start from Jestha 11 and will end on Ashad 11.
Examination time:
For 4 Years B.Sc 3rd year : 1 to 4 pm
For BBS program (both 3rd year and 4th year): 7 to 10 am.
Tribhuvan University also publishes routine of 3 Years Bachelor Level (BA, B.Ed, B.Sc, LLB/BL) 3rd year 2074. WHICH IS AVAILABLE HERE

Update:The examination of Phy.304 and BOT.303 elective will held on Jestha 19 instead of 22.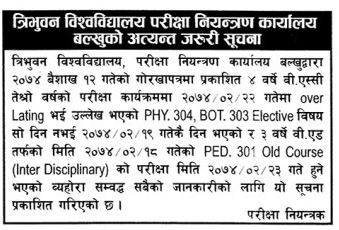 Special Notice to fill exam form: Eligible students who have failed to submit the application in the earlier mentioned deadline can submit the form paying double fee contacting their college/campus from today. Such colleges/Campuses have to submit the application fee fulfilling all criteria within Baisakh 19, 2074. Private students can submit their forms directly in exam controller office in Baisakh 17 and 19.