Tribhuvan University office of the controller of examination, Balkhu today publishes an urgent notice for the students of MBS and MPA which appeared in the examination started from Kartik 17, 2074 and conducted by OCE but could not pass the exam.

Such students are notified to fill the exam application form by paying the required fee via respective campuses, and the private students via exam controller office.
Last date to submit exam application form: Falgun 15, 2074.
Colleges/Campuses should submit collected applications form within Falgun 16, 2074.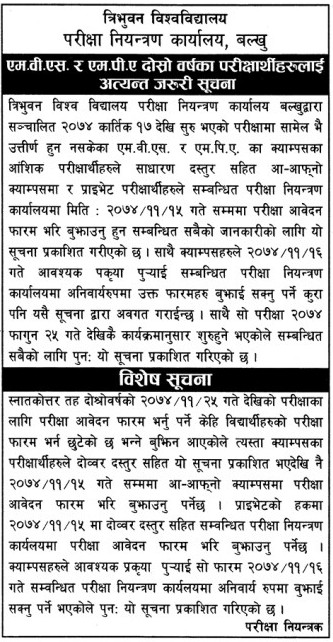 The examination will start from Falgun 25, 2074 according to earlier published exam schedule.
Special Notice:
Students who are eligible to sit the Masters second year examination going to held from Falgun 25, 2074 but failed to submit the exam application form are informed to submit exam application forms within Falgun 15, 2074 paying double fee. Private students can submit their application form via exam controller offices.
Campuses should submit the collected application forms by fulfilling all the formalities within Falgun 16, 2074.
EXAM ROUTINE OF MASTER LEVEL SECOND YEAR
The examination will start from Falgun 30, 2074 and will end on Chaitra 25
Examination Time: 12 to 4 pm.
Revised Masters Level Second Year Exam Schedule 2074-Tribhuvan University