The Parliament on Saturday endorsed the Education Act Eighth Amendment Bill unanimously.

The Bill has proposed following changes:

Categorizing school education into two levels basic education (Grade I to VIII) and secondary education (Grade IX to XII). Currently, there are four levels in school education primary level (Grade I to V), lower secondary level (Grade VI to VIII), secondary level (Grade IX to X) and higher secondary level (grade XI to XII).
Scrapping SLC examinations
Transforming Higher Secondary Education Board, which regulates higher secondary schools across the country, into National Education Board, which would conduct the national-level school termination examinations.
Barring cooperatives from running schools.
Education Minister Giriraj Mani Pokharel had tabled a proposal seeking endorsement of the Bill.
The Bill also allows the temporary teachers recruited before February 2011 to either compete for 40 percent reserved posts in total vacancies or choose a golden handshake deal which offers severance sum between Rs 100,000 to Rs 400,000 based on their service period. The deal will be provided under three categories: those with service period of 5-10 years, 10 to 15 years and 15 years and above.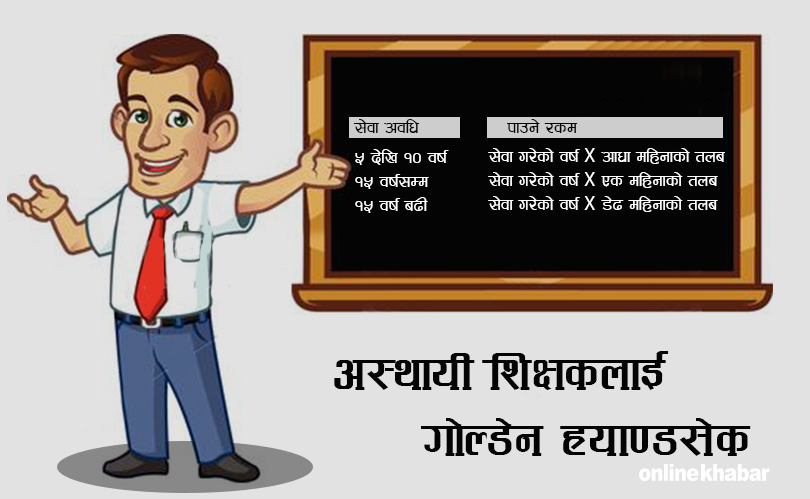 Image source: Onlinekhabar.com
Temporary teachers who fall under the first category will be entitled to an amount equal to 15 days' salary for each service year, while those coming under the second and third categories will be paid one month's salary and 45 days' salary respectively for each year of service period.
Download: Download शिक्षा (आठौं संशोधन) ऐन ,२०७3 संसोधन सहित.pdf - See more at: http://edusanjal.com/downloads/#sthash.kVkXKUqj.dp...