The Council for Technical Education & Vocational Training (CTEVT) has revised the admission criteria set for its diploma courses. However, it is yet to increase its enrollment capacity.
Earlier, CTEVT had set 2.0 GPA as the criteria entry into diploma courses on in Health streams with at least a C in Science, Math and English. Apart from the Health stream, the CTEVT has revised admission criteria in a bid to include more students in its programs, according to the CTEVT.
"As per revised provision, the students obtaining D+ English and C in Science and Math will also be eligible to get enrollment in Engineering diploma programs," said Ram Hari Lamichhane, member-secretary at the CTEVT. "The admission criteria for health stream have not been changed," he added.
Similarly, students with C in any two and D+ in either English, Math or Science will be eligible to enroll in Diploma in Forestry and Agriculture streams. The students with D+ in English, Science and Math can get admission in Diploma in Hotel Management, Entrepreneurship, Social Works and others, said Lamichhane.
All literate are eligible for TSLC & other training programs offered by the CTEVT.
Despite the change in criteria, the CTEVT does not have enough seats to accomodate all eligible students.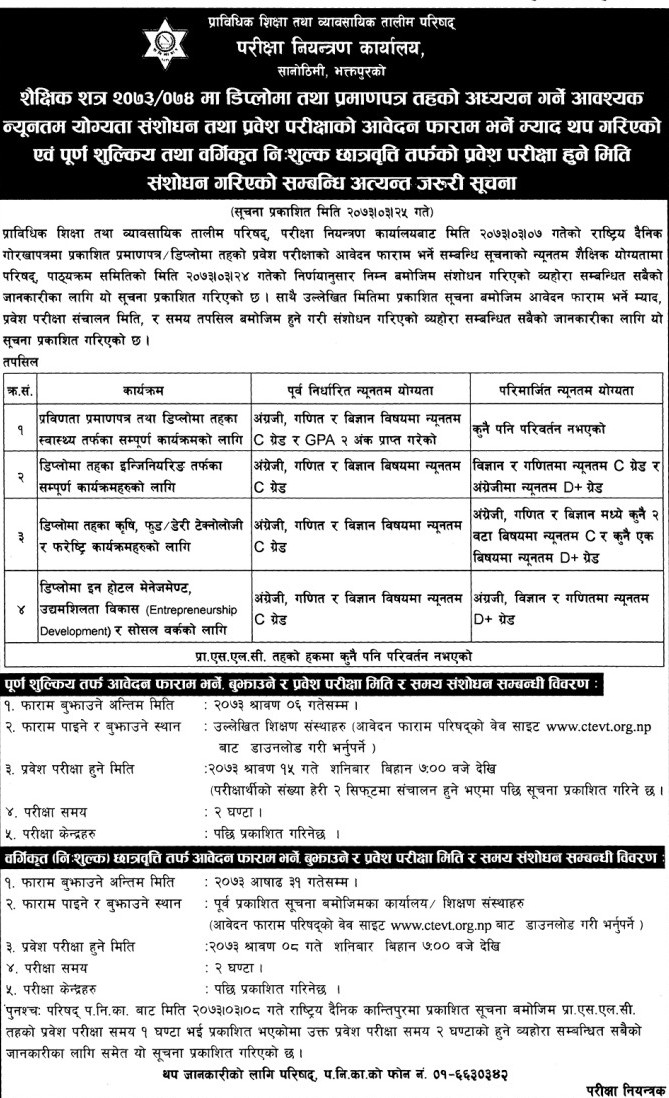 The CTEVT has an annual capacity of about 20,000 intakes in diplomas, and 25,000 intakes in TSLC and training programs being operated in its constituent and affiliated institutions across the country, according to the CTEVT.
"We can increase the quota on the basis of students' interests and pressure," said Lamichhane. "The schools with good infrastructure and faculties will be allowed to increase quota or run the programs."
However, the existing infrastructure and manpower is inadequate to take in all eligible candidates, some CTEVT officials said.
Lamichhane said that they are also preparing to offer short-term courses and trainings to interested students. "We are planning to increase quota and offer short term vocational trainings if the government provides us the necessary funds. We need Rs 420 million for adding 100 such schools," he added.
A total of 105,167 students have secured less than 1.6 GPA in this year's SLC exams. According to the Ministry of Education (MoE), the students who achieved 1.6 or above GPA are eligible to pursue Grade 11. Altogether 437,326 from regular group and 150,826 from exempted group appeared in this year's School Leaving Certificate (SLC) examinations.
(Source: This article was originally published in Republica National daily on 9th July, 2016)