Idea Studio Nepal conducted College Idea Hunt on 16th of September 2019 in Rastriya Sabha Griha . Rupesh Duwal, Anshu Pradhan & Joseph Shrestha were the top 3 winners of the I have an Idea Event, the grand finale of College Idea Hunt 2019.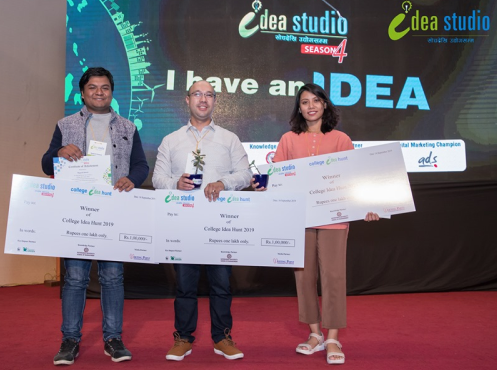 Every year, the event is conducted where they collect ideas from students of all over Nepal and rewards top 3 ideas with NPR. 1,00,000/- as seed investment.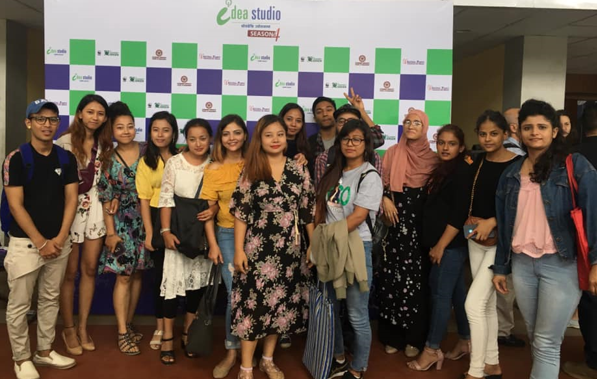 Idea Studio Nepal is Nepal's first business incubator established with motive to turn ideas into real-life solutions.

The selected ideas then can take part in National Idea Hunt which is also a reality television show.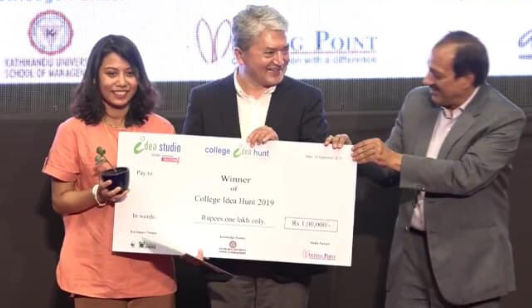 Diploma in Fashion & Marketing student, Ms. Anshu Pradhan Receiving Her gift voucher from Prof. Dr. Ram Kantha Makaju Shrestha Vice Chancellor of Kathmandu University

Seven ideators presented their business ideas to the Jury members, Sanjib Subba, CEO, National Banking Institute (NBI) Anupama Khunjeli, Chief Executive Officer, Mega Bank Nepal Limited Santosh Mani Nepal, Senior Director Policy and Governance, WWF Nepal Kawish Bhakta Shrestha, Co-founder at Sajilo Marmat Sewa.

The event was hosted by Malvika Subba, also an Executive Director and Board of Idea Studio Nepal which had participants of more than 500 people.
The event was chaired by Dr. Ram Kantha Makaju Shrestha MD, Vice Chancellor Kathmandu University. There was a special presence of Dr. Bhagawan Koirala, Shrinkhala Khatiwada and Sujeet Regmi.
This season, the top 4 seed investment category were:
1. Made in Nepal: Business generated from local resources
2. High Flying: Business with high growth prospect using scalable business model
3. Social Impact: Business addressing and solving social issues
4. Greenovation: Business solving environmental challenges using eco-friendly solutions
Diploma in Fashion & Marketing student, Ms. Anshu Pradhan of IEC School of Art & Fashion was one of the top 3 ideas of College Ideas Hunt, Season 4. Being a business student, her idea was to collaborate environment and fashion by two methods: using Cane & Bamboo in Textile Business and using Textile in cane and Bamboo business.
The benefits of this initiatives would be as follows: -
It will be a green choice -
Creates Green Space
Protects environment
Reduce greenhouse effect