Chitwan, Dec 8: On November 26, the students of six community schools of Icchakamana Rural Municipality-2 gathered on the premises of Janapriya Secondary School (JSS) of Kalyantar. The students of Bhotegaun Basic School, Bhulbhule Basic School, Saraswati Basic School, Baryang Basic School and Siddhakali Basic School and Janapriya itself gathered at the school to observe a program.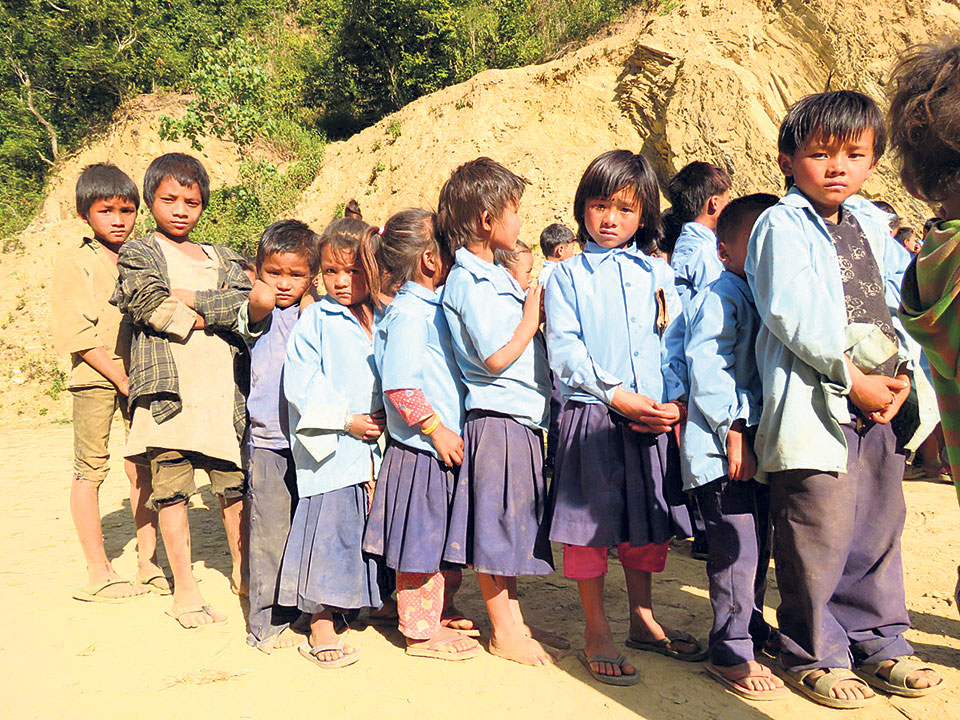 The students of Chepang community who arrived barefoot at Janapriya Secondary School of Kalyantar, Chitwan.

The women sub-committee of Hansha Multi-purpose Co-operative, Narayanghat, distributed sweaters and stationery to the students on that day. The excited students had flocked the venue in the afternoon. Even the principals, teachers and helpers had arrived on time.
Children during winter are made to wear warm clothes; woolen gloves, socks and caps. Children are given more care during this season. However, despite the freezing cold, the students who had gathered on the premises of JSS were wearing no sweaters, caps, gloves or even shoes. They had walked at least for an hour to reach there so that they could get the much-needed sweaters for the winter.
All that they were wearing was shirts and pants to escape the chilling weather. Most of them were barefoot and were shivering in the cold. Only a few students were wearing slippers. Those without slippers belong to the Chepang community. People of this community inhabit Icchakamana-2, Bhotegaun.
When asked why she was not wearing slippers, Sanju Chepang, who studies in grade two at Bhotegun Basic School, said that her parents could not afford to buy slippers for her. According to Principal Nim Bahadur Budhathoki, there are currently 40 students in the school and most of them come to school barefoot regardless of the weather.
Principal Buthathoki laments that the parents ignore their request to pay special attention to the health and sanitation of the children. "Most of them spend their little earnings on buying two-time meal and some on alcohol," said Buthathoki.
Kamala Bhandari, Principal of Baryang Basic School, stated that most children cannot afford to wear shoes due to poverty while some do not because their parents really do not care. According to the teachers, most students drop their studies after completing primary level education and start searching jobs for a living.