Tribhuvan University exam controller office today publishes an urgent notice for the students who want to appear in the Bachelor Level Third year Examination of the faculties of Humanities, Management, Education, Science and Law, which is going to held form Jestha 11, 2074.
All the students of both 3/4 years Bachelor third year regular and private (full and partial) Students who missed to fill the examination form in the earlier mentioned date can now apply paying the double fee in their respective campuses or regional exam controller office.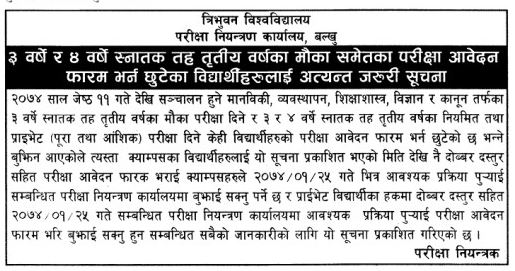 Such college/campuses should submit the collected form to exam controller office within Baishakh 25, 2074.

View Routines here
Exam Routine 4 years BBS-TU, B.Sc-TU, and 3 years BBS-TU 3rd year 2074
Examination Routine Tribhuvan University 3 Years Bachelor Level 3rd year 2074