Tribhuvan University, Office of the Controller of Examination Balkhu today publishes the examination schedule of four Years B.Sc. Nutrition and Dietetics First Year (Partial only) Second, Third and Fourth Year (Regular and Partial) 2076.

Examination is going to be held from Bhadra 18, 2076.
Examination Time: 7:00 AM to 10:AM.
Exam Center: Central Campus of Technology (Kendriya Prabidhi Campus) Hattisar, Dharan
View the exam routine below:
Four Years B.Sc. Nutrition and Dietetics 1st year & 2nd year-2076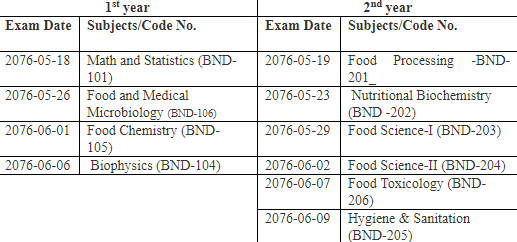 Four Years B.Sc. Nutrition and Dietetics 3rd year & 4th year-2076