LAMGUNJ, June 19: Children in the remote parts of Manang, Mustang or Lamjung rarely go to school. While there are only a few numbers of schools in the rugged terrain, poverty also equally bares them from getting education. "Only a few children in our village go to school as we have a lot of house hold chores to perform," shares Palma Sangmo Lama, 16 of Timang village in Manang.
Lama was lucky to have a school near her home. Because of the nearness, she was able to manage to join the school she shared adding that she however always a fear in her mind that one day she might have to drop out of school.
"Children from our areas cannot go to high schools unless they are sent away from home to boarding schools," she narrated.
However, not every family can afford such arrangements, as they foot hefty bills. Apart from that, security of their children, especially girls, is very concerning for the parents.
"People from well off families send kids to Kathmandu, Pokhara and some even send their kids to India. Families who cannot afford such arrangements, keep their children at home by ending their education," Lama stated.
To her big relief, a school in Chame turned residential last year. The school, Lokpriya Madhyamik Bidhyalaya, runs classes from nursery to plus two level and charges minimum to students for all services. Thanks to the financial support it is receiving from Chame Rural Municipality, children get three times meal and other support from the municipality only. According to the school Principal Suresh Kumar Thapa, the sole reason to turn the school residential is to offer opportunity to study for children from poor economic background.
"The municipality office supported the school so that our children can get standard education at home. Now, children won't be deprived of education, they don't have to go far for studies," said Thapa.
Location wise, the school is situated strategically to suit the need of children from various localities in the region. It lies just behind the high hills of Manang. Small but cozy one storied classrooms decorated with children's creative paintings give its classrooms a marvelous look. Apart from regular academic exercises, the school offers variety of extracurricular activities to the students.
"Assembly, morning prayers, break and all is like that in any other standard English schools. We have disciplined and dedicated teachers and very lovely students," Thapa boasted.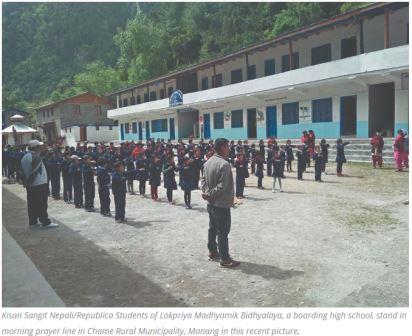 Last year, there were only 94 children in the school. After offering residential services, the school has 257 students. "The number of students at the school has more than doubled," he said.
Not all the students stay in the school though. Some are semi-residential, according to Thapa. "Those who can manage to come from home come from home. They however spend relatively more time in school than in home. We provide free extra tuition hours. They also eat in school, for free," he explained.
Chairperson of Chame Rural Municipality, Lokendra Bahadur Ghale, claimed that supporting the school was imperative for educating the children. There are not many schools in the area, and the school is one of the best, he said.
"We are committed to change the educational scenario of our place. For this, we are ready to support and promote this school and few others as per our capacity," said Ghale. "After the school started providing residential service, you see, so many students have come. Where would have they gone otherwise? We are helping children from poor families," he added.
He shared that his office is planning to provide additional budget to the school for building new infrastructures. "We are already working on it, the school is going to be a model school and our kids here will get easy access to education," he asserted.
Meanwhile, Lama's classmates Sabina Gurung and Arpan Gurung expressed immense pleasure over the residential facility. Had it not been there, they would have to either quit studies or go to some school miles away from home, they said. Students in the school have been paying just Rs 1,500 per month. "That's very cheap. Had we tried to study elsewhere, in Kathmandu or Pokhara, the cost would not be affordable," Arpan said.