Tribhuvan University office of the controller of examination, Balkhu today publishes the re-total results of Bachelor of Business Studies (BBS) first year, which final results was published on Jestha 19, 2073.
Similarly Tribhuvan University also published the re-total results of various subjects of Masters level first year. The meeting of Central Examination Committee of Tribhuvan University held on Sharwan 28, had decided to publish this result.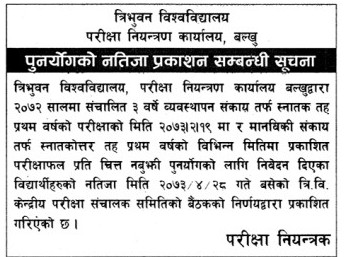 As edusanjal do not get the re-total result file, students have to contact Exam Controller office Balkhu to know if their marks has been changed after re-total or not.